Analysis | September 24, 2015
Large-Screen Smartphones Erode Total Personal Computing Unit Growth
IC market for personal computing devices forecast to decline in 2015 as a result.
Five years ago, touchscreen tablets began pouring into the personal computing marketplace, stealing growth from standard personal computers and signaling the start of what has been widely described as the "post-PC" era. Led by Apple's iPad systems, tablet shipments overtook notebook PCs in 2013, and it appeared as if they would surpass total personal computer units (counting both desktop and portable systems) by 2016. However, that scenario no longer seems possible after tablet growth lost significant momentum in 2014 and then nearly stalled out in the first half of 2015 due to the rise in popularity of large-screen smartphones and the lack of interest in new tablets that do not add enough features or capabilities to convince existing users to buy replacements. Consequently, IC Insights has downgraded its forecast for the overall personal computing market, including much lower growth in tablets and continued weakness in standard PCs (Figure 1).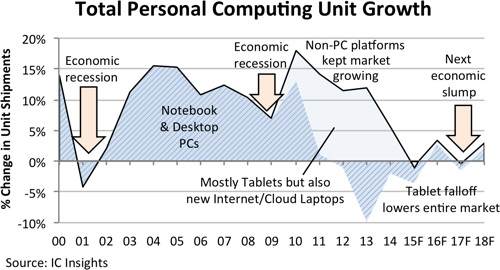 Figure 2 shows IC Insights' forecast for integrated circuits used in standard PCs, tablet systems, and Internet-centric/cloud-computing systems. PC and tablet IC sales are expected to decline in 2015 because of downward revisions to system shipments in both of those categories this year. PC integrated circuit sales are now expected to decline by 3% in 2015 to $57.7 billion from $59.4 billion in 2014, when revenues grew 5%. IC sales for tablets are now expected to decline 5% in 2015, dropping to $16.6 billion from $17.4 billion in 2014, which experienced an 18% increase. Sales of ICs for Internet/cloud-computing laptops are now expected to rise 38% in 2015 to $931 million from about $675 million in 2014, which was an 83% increase.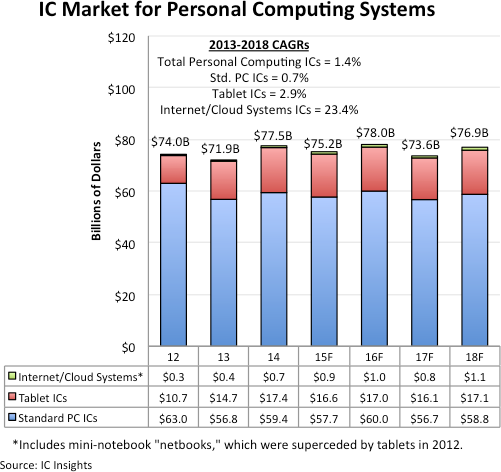 The compound annual growth rate of IC revenues for standard PCs is now expected to grow by a CAGR of 0.7% in the 2013-2018 timeperiod, reaching $58.8 billion in the final year of the forecast. The reduction in tablet sales growth has also significantly lowered the projection of IC revenues in this category to a CAGR of 2.9% between 2013 and 2018. The outlook for integrated circuit sales used in Internet/cloud-computing systems is forecast to grow by a CAGR of 23.4% in the forecast period, reaching $1.1 billion in 2018. ---
© IC Insights