Analysis | May 29, 2015
The Avago/Broadcom deal will create a new powerhouse
Merger activity in the semiconductor industry moved to a new level with the Avago and Broadcom deal, says IHS. The deal, which is valued at USD 37 billion in cash and stock, will create a new company valued at USD 77 billion.
"This is the latest and, by far the largest, merger in the semiconductor industry, as major players continue to move in an aggressive way to establish position and profitability in key segments of the industry," said Dale Ford, vice president and chief analyst for IHS Technology. "Investors have responded favorably to the announcement, with promised bottom-line benefits derived from realized cost savings." The combined revenues of the two companies in 2014 exceeds USD 14 billion, making the newly merged semiconductor company the sixth-largest globally, according to final annual semiconductor market shares. More significantly, the combination of the two companies creates the third-largest semiconductor supplier, trailing only Intel and Qualcomm, if memory integrated-circuit (IC) revenues are excluded. "The complementary product portfolios of the two companies move them into a powerful position, in both the communications IC market and the storage IC market," Ford said.
Quadrupling in size in two years
This latest move from Avago Technologies has formed a company with revenues four times greater than in 2013. The two biggest recent mergers by Avago Technologies were the acquisition of LSI in 2014 and this new acquisition of Broadcom. The mergers increase the company's strength in the communications and storage categories. Outside of these two areas, Broadcom has a much smaller presence in consumer electronics and industrial electronics and almost no revenue from other data processing and automotive electronics.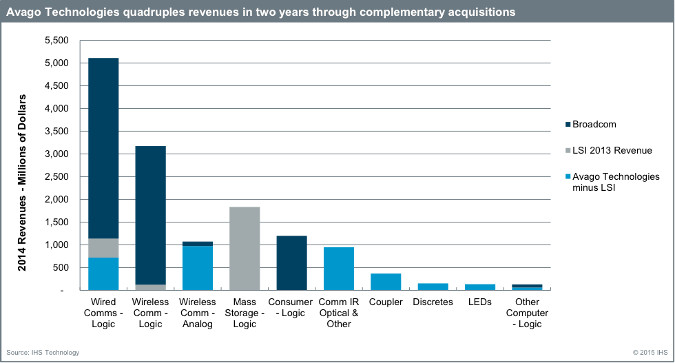 Communications focus
The newly merged Avago-Broadcom will dominate the market, commanding 40 percent of the wired communications IC market, excluding memory. Revenues for this category in 2014 were more than five times larger than the next largest supplier, Intel. The merged company will boost its share of the wireless communications IC market to nearly 8 percent, ranking fourth behind Qualcomm, Samsung Electronics and MediaTek. With an overall market share of 14 percent for all communications ICs, the company ranks second, trailing only Qualcomm and ahead of Samsung Electronics. The strength of the merged Avago/Broadcom in the wired communications market positions it to benefit from the strong projected market growth. The five-year compound annual growth rate (CAGR) for wired communications is 7 percent, leading all other market segments. On the other hand, semiconductors used in wireless communications products is projected to go through a period of weak growth at only 2 percent CAGR over the next five years. "The size of the combined company could give it a strong position to increase its market share over this time," Ford said.
Cost savings rolling to the bottom line
The companies predict USD 750 million in annual cost synergies in 18 months. A quick look at the distribution of their revenues shows that 66 percent of Avago Technologies' revenue comes from products shipped to the Asia-Pacific (APAC) region, for use in electronics production. Broadcom derived 93 percent of its revenues from APAC shipments of its ICs. "The alignment of the supply chain between the two companies will facilitate the projected savings," Ford said. ----- Images:
© IHS