Analysis | May 22, 2015
Intel, Samsung, TSMC ... in that order
SK Hynix moves into top 5, MediaTek climbs into top 10, and Sharp and UMC move into the top 20 ranking.
The top-20 worldwide semiconductor (IC and O S D—optoelectronic, sensor, and discrete) sales ranking for 1Q15 is shown in Figure below. It includes seven suppliers headquartered in the U.S., four in Japan, three in Taiwan, three in Europe, two in South Korea, and one in Singapore, a relatively broad representation of geographic regions.
The top-20 ranking includes three pure-play foundries (TSMC, GlobalFoundries, and UMC) and four fabless companies. It is interesting to note that the top four semiconductor suppliers all have different business models. Intel is essentially a pure-play IDM, Samsung a vertically integrated IC supplier, TSMC a pure-play foundry, and Qualcomm a fabless company.
In total, the top 20 semiconductor companies' sales increased by 9 percent in 1Q15/1Q14 (6 percent excluding the foundries), three points greater than the total worldwide semiconductor industry growth rate. Although, in total, the top-20 1Q15 semiconductor companies registered a 9 percent increase, there were six companies that displayed >20 percent 1Q15/1Q14 growth. Nine companies had sales of at least USD 2.0 billion in 1Q15. As shown, it took just over USD 1.1 billion in quarterly sales just to make it into the 1Q15 top-20 semiconductor supplier ranking.
There were two new entrants into the top 20 ranking in 1Q15—Japan-based Sharp and Taiwan-based pure-play foundry UMC, which replaced U.S.-based AMD and Nvidia. AMD had a particularly rough 1Q15 and saw its sales drop 26 percent year-over-year. It currently appears that AMD's 2013 restructuring and new strategy programs to focus on non-PC end-use segments have yet to pay off for the company (in addition to its sales decline, AMD lost USD 180 million in 1Q15 after losing USD 403 million in 2014).
Although Intel's sales were flat in 1Q15, and it believes its 2015 sales will be flat with 2014, it remained firmly in control of the number one spot. There were, however, some significant changes in the remainder of the top 10 ranking.
SK Hynix continued its ascent up the semiconductor company rankings that started a few years ago and moved into 5th place in 1Q15, displacing Micron. With Qualcomm's sales hitting a soft patch and SK Hynix continuing to gain share in the memory market, IC Insights believes that the company could move past Qualcomm into the fourth spot when the full-year sales totals for this year are tallied.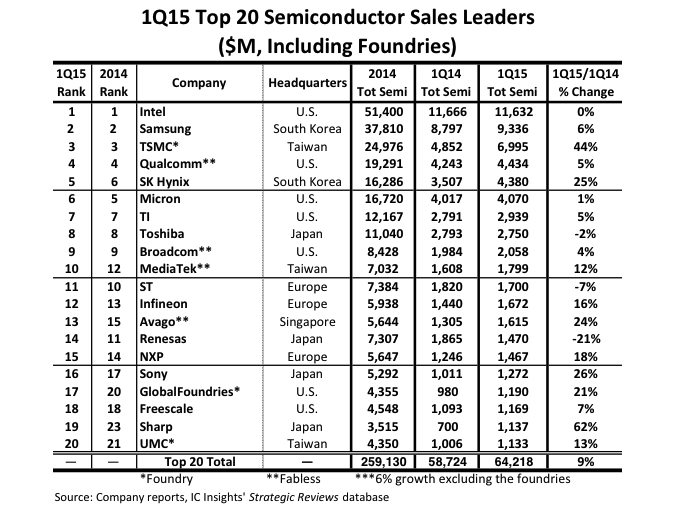 While MediaTek's growth has slowed somewhat from its torrid pace over the past few years, the company posted a year-over-year sales increase of 12 percent to move into the top 10. IC Insights believes that MediaTek will remain in this position in the full-year 2015 ranking.
Although Sharp as a whole is having a difficult time, its semiconductor group, which represents only about 14 percent of the company's corporate sales, posted a whopping 62 percent growth rate (an 88 percent increase in yen), the best 1Q15 sales increase of any top-20 semiconductor supplier. This sales surge was almost entirely due to the company's success in the CMOS image sensor market.
As would be expected, given the possible acquisitions and mergers that could occur this year (e.g., NXP/Freescale, GlobalFoundries/IBM's IC group, etc.), as well as any new ones that may develop, the top 20 semiconductor ranking is likely to undergo a tremendous amount of upheaval over the next couple of years as the semiconductor industry continues along its path to maturity.
-----
© IC Insights
Load more news