Analysis | May 15, 2015
China's cable industry on rapid growth path in 2014
After 2004, China's wire and cable industry saw rapid growth, with the revenue achieving a CAGR of 28.7% in 2004-2010.
While following 2011, affected by the factors including declining raw material prices, the slowed downstream market, and increasingly prominent overcapacity, the growth of overall industry slowed down. Therefore, the revenue CAGR during 2011-2014 slumped to 7.4%. At present, China has already been the world's largest wire and cable producer, but with a relatively low industry concentration. China's top 10 wire and cable manufacturers have accounted for a combined 10% of the total output value contrast to over 60% of Europe, the United States, and other developed countries. In addition, more than 95% of wire and cable manufacturers in China are small and medium-sized ones, and they mainly produce low and mid-end products. High-end products rely on imports. In 2014, China imported 285,000 tons of wire and cable from such countries as South Korea, Japan, Germany, and the United States. In terms of company competition pattern, China wire and cable market is dominated by foreign companies like Prysmian SpA, Nexans SA, and General Cable; the relatively large-scale domestic players including Far East Smarter Energy, Baosheng Sci&Tech Innovation and Qingdao Hanhe Cable occupy small market share.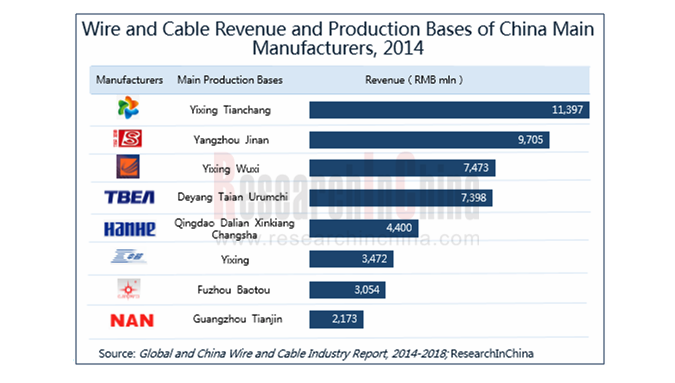 © Research in China
Prysmian:
the largest wire and cable player in the world, the revenue in 2014 hit EUR6.84billion (around USD45.08 billion). Entered in Chinese market in 2001, it has set up seven wire and cable branches. In Sep.2014, it obtained marine cable orders from Shanghai Waigaoqiao Shipbuilding Co.
Nexans:
one of the top 3 wire and cable manufacturers worldwide, it could offer full-series wire and cable solutions, and owns three plants in China. In Apr.2015, it obtained 500KV XLPE cable system project of State Gird Shanghai Municipal Electric Power Co., which is the fourth 500KV scale project in China, and estimated to be finished before the end of 2016.??
Far East Smarter Energy:
the largest wire and cable manufacturer in China, its revenue from wire and cable business in 2014 registered RMB11.78 billion. In July 2014, it signed cooperation agreement with Jiangsu Huabo Industrial Group on providing special wire and cable for Tesla's new energy electric vehicle and charging equipment. In March 2015, it concluded a supply contract with GE on cable for intelligent, environment-friendly locomotives.
Baosheng:
the second largest wire and cable manufacturer in China, it is dedicated to power cable, cable for electric equipment, and network cable, etc, and positively extends to high-end special cable market used in military, new energy, automobile and aviation& aerospace, etc. In Feb.2015, it invested and established Baosheng (Shanghai) Aviation &Aerospace Cable System Co., Ltd.