Analysis | May 12, 2015
TI ups analog marketshare; Skyworks gains from Apple
The top 10 suppliers accounted for 57 percent of analog sales in 2014; and 9 of 10 of the top suppliers have analog sales greater than USD 1.0 billion.
Texas Instruments was again the leading supplier of analog devices in 2014 with USD 8.1 billion in sales, and increased its analog marketshare to 18%, according IC Insights' April Update to The McClean Report 2015.
The top 10 analog IC suppliers accounted for 57% of total analog sales in 2014, up slightly from 56% in 2013. Among the top suppliers, six companies on the list had sales in excess of USD 2.0 billion and three others exceeded USD 1.0 billion in analog sales last year. (Renesas again fell short of the USD 1.0 billion mark.) Among the top suppliers, Skyworks Solutions (42%), NXP (21%), and Texas Instruments (13%) showed the strongest growth and outperformed the total analog market (9%) by the widest margins.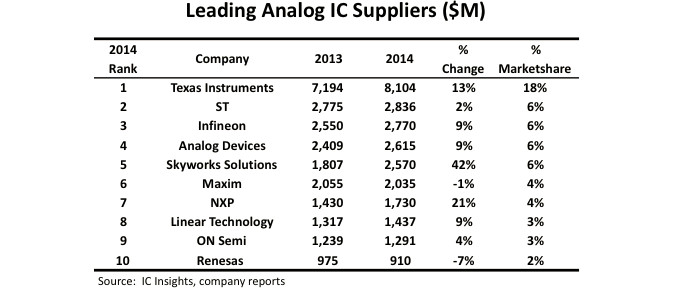 TI's analog sales represented 62% of its total corporate revenue in 2014. Since the 1990s, TI has focused on increasing its presence in the analog market. In 2009, TI purchased 300mm manufacturing tools from defunct Qimonda and put them to use to build analog ICs, becoming the first company to manufacture analog devices on 300mm equipment. In 2010, TI acquired two wafer fabs operated by Spansion in Aizu-Wakamatsu, Japan, and it acquired a fully equipped 200mm fab in China from Cension Semiconductor Manufacturing in Chengdu. Both facilities were immediately put to use making analog ICs. In April 2011, TI acquired National Semiconductor—its rival in many analog markets—for USD 6.5 billion.
Skyworks enjoyed a stellar year in which its analog sales increased 42% mostly due to strong worldwide smartphone sales. Skyworks Solutions makes analog and mixed signal semiconductors for Apple, Samsung, and other suppliers of mobile devices. Multiple power amplifier components from Skyworks are found in Apple's iPhone 6 models. It has been estimated that Skyworks supplies USD 4 worth of content from every new iPhone 6 handset.
-----
Images:
© IC Insights
Load more news