Analysis | April 17, 2015
NXP/Freescale wiggles itself back into the Top10
In 2014, there were only two Japanese companies—Toshiba and Renesas—that were among the top 10 semiconductor suppliers. Assuming the NXP/Freescale merger is completed later this year, IC Insights forecasts that Toshiba will be the lone Japanese company left in the top 10 ranking.
Anyone who has been involved in the semiconductor industry for a reasonable amount of time realizes this is a major shift and a big departure for a country that once was feared and revered when it came to its semiconductor sales presence in the global market.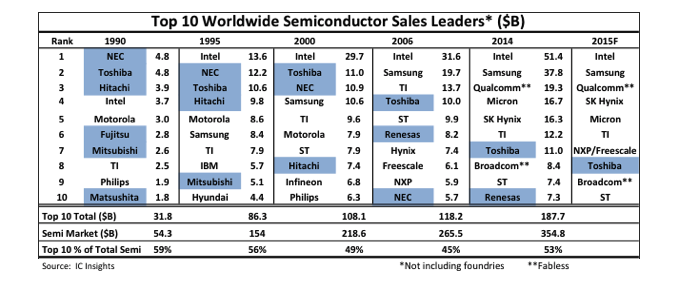 Figure 1 traces the top 10 semiconductor companies dating back to 1990, when Japanese semiconductor manufacturers wielded their greatest influence on the global stage and held six of the top 10 positions. The six Japanese companies that were counted among the top 10 semiconductor suppliers in 1990 is a number that has not been matched by any country or region since (although the U.S. had five suppliers in the top 10 in 2014). The number of Japanese companies ranked in the top 10 in semiconductor sales slipped to four in 1995, fell to three companies in 2000 and 2006, and then to only two companies in 2014.
Figure 1 also shows that, in total, the top 10 semiconductor sales leaders are making a marketshare comeback. After reaching a marketshare low of 45% in 2006, the top 10 semiconductor sales leaders held a 53% share of the total semiconductor market in 2014. Although the top 10 share in 2014 was eight points higher than in 2006, it was still six points below the 59% share they held in 1990. As fewer suppliers are able to achieve the economies of scale needed to successfully invest and compete in the semiconductor industry, it is expected that the top 10 share of the worldwide semiconductor market will continue to slowly increase over the next few years.
-----
© IC Insights
Load more news