Electronics Production | March 27, 2015
An inverted relationship gives you a real smart product
Wearable electronics are predicted to become a huge market covering different segments. But when it comes to consumer products, there are – at the moment – aspects that I simply do not get, like why I should buy one.
Looking at the products that have received some media coverage, mainly smartwatches and glasses, they're all marketed as making life easier. However, most of them can not be operated as a stand-alone device, they need to be parred with something else, usually your phone (which already does all the things the new smart device can, essentially making the new cool watch a mere notification device).
There is however a product that has an interesting concept which kind of flips the relationship around. The Neptune Duo is a two-part device package. The package consists of a Hub, an independent bracelet of sorts, powered by its own quad-core processor – with support for 3G/LTE, Wi-Fi, GPS, Bluetooth, NFC and running on Android Lollipop – and a 5-inch pocket screen (which is simply just a touchscreen monitor).
The Pocket screen is simply an interface for your Hub – which is the actual "smart device" – just like a Tab Screen would be. What the Neptune creators are aiming for here is a device which could possibly be your only "smart" device. You wouldn't have to sync between different devices as you are always running the same hub, just on different interface equipment. Finally a truly smart smartwatch.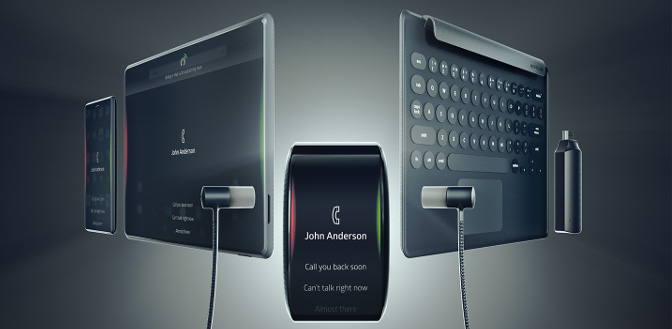 ----
Images
© Neptune
Load more news