Analysis | January 21, 2015
Samsung and Apple - top semi customers in 2014
Samsung and Apple continue to lead as top global semiconductor customers in 2014. The two companies consumed – together – 17 percent of the total semiconductor demand.
Samsung Electronics and Apple remained the top semiconductor buyers in 2014, representing with a combined semiconductor demand of 17 percent, according to the research firm Gartner. Samsung Electronics and Apple together consumed USD 57.9 billion of semiconductors in 2014, an increase of USD 3.9 billion from 2013.
"Samsung Electronics and Apple have topped the semiconductor consumption table for four consecutive years and their decisions have considerable technology and pricing implications for the whole semiconductor industry," said Masatsune Yamaji, principal research analyst at Gartner. "However, while Samsung Electronics kept its position as the No. 1 largest customer of semiconductor chip vendors, its growth rate in 2014 was lower than the global semiconductor market's growth, firstly because it struggled in the smartphone market, and secondly because it is withdrawing from some parts of the PC market."
The top 10 companies bought USD 125.6 billion of semiconductors, to account for 37 percent of semiconductor chip vendors' worldwide revenue in 2014. This was up from USD 114.8 billion, accounting for 36.4 percent in 2013. The top 10 outperformed the semiconductor buying market and grew by 9.4 percent overall.
Preliminary Ranking of Top 10 Companies by Semiconductor Design TAM, Worldwide, 2014 (billions of dollars)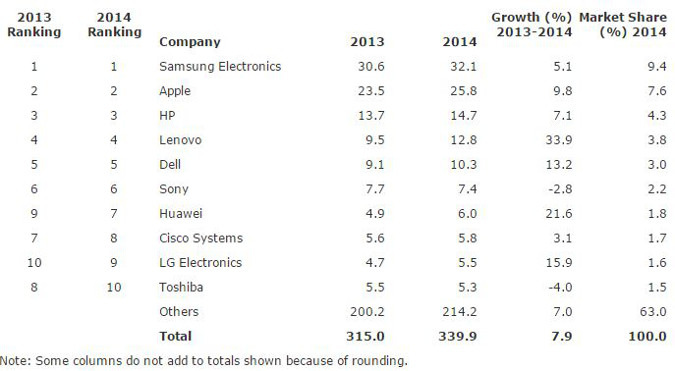 As a result of the stabilization of memory prices from 2013, eight companies among the top 10 increased their semiconductor demand in 2014.
"The competitive landscape of the electronic equipment manufacturers and the semiconductor demand map were stable in 2014, but the slowdown in Samsung Electronics' design TAM can be considered a big trend change," said Mr. Yamaji. "Samsung Electronics and Apple remained the top two, but their combined growth underperformed the total semiconductor market growth in 2014. The impact from these two giants is still huge, but it is becoming weaker while Chinese electronic equipment manufacturers, such as Lenovo and Huawei, significantly increased their importance as semiconductor chip buyers in 2014."
The cycle of an inflated boom and the obsolescence of electronic equipment are becoming faster, and it is also much more difficult for leading companies to maintain their position for a long time.
"It is inevitable that price competition between smartphone and media tablet vendors will become fiercer in the coming years, as hardware differentiation has been difficult to achieve. The pace of commoditization is accelerating, which leads to Chinese electronic equipment manufacturers growing fast," said Mr. Yamaji.
-----
Image:
© Gartner
Related news
Load more news