PCB | November 17, 2014
Smart PCB Sourcing Concepts
Whether you are an EMS, or an OEM, defining the right sourcing policy for PCBs and components is an important strategic management task. Making a forward-looking decision creates results that help improve company's competitiveness.
Take a large EMS companies that has a PCB purchasing volume in the order of half a billion USD. A holistic approach to draw on all available efficiency boosters in the companies' sourcing environment (organizational set-up and purchasing efforts) will award the bottom line with single or double digit million savings. It is worth pursuing a smart PCB sourcing concept.
Classifying your PCB Purchasing Portfolio
Before defining a sourcing policy one has to know the "DNA" of the purchasing portfolio. One way of analyzing it is to cluster it into two major groups – technology and volume requirements. There is also an additional option to classify into a third major group – business segment – for additional structure. Recommended technology subcategories are: rigid boards, flexible/rigid-flex boards, heavy copper, HDI, IMS requirements. The 2nd group, the volume category, may be clustered as low, medium and high volume groups. Having classified your portfolio, you need to find an efficient sourcing strategy which ought to be implemented tactically by the procurement department.
Purchasing Demand meets Market Supply Situation
The requirements of an often highly diversified PCB portfolio (technically and lot sizes necessities) traditionally meets a very different market reality on the supply side. PCB producers are often strong technically and commercially in mainly one particular PCB segment, e.g. low layer rigid boards only, or high volumes only, or flexible boards and low volumes only. This will not cover a wide and diversified PCB portfolio. Sure there are producer around that offer multiple volumes and technologies from one source. However, one has to answer the question: Does this "Jack of all trades" situation always offer me the most reliable and competitive solution? If you believe the answer to this question is "no", naturally your sourcing policy tends to require a multiple sourcing strategy. If you believe the answer to this question is "yes", naturally your sourcing policy tends to require a single sourcing strategy. Which sourcing strategy is the best and what are the strength and weaknesses?
Sourcing Options
Mainly there are four different approaches to sourcing:
Sole sourcing (only one supplier in the supplier base – e.g. because of a patent)
Single sourcing (one single supplier is selected out of a choice of suppliers)
Dual sourcing (two suppliers are selected)
Multiple sourcing (multiple suppliers are selected)
Single Sourcing vs. Multiple Sourcing
Let's take a look at the pros and cons of the two most popular and classical approaches, before presenting you with a third, alternative approach.
Single Sourcing
Here, one single PCB manufacturer is chosen to provide the entire PCB portfolio. There is one contract and one line of contact. This significantly reduces the effort, the needed manpower, in the day-to-day management of the outsourcing activities. Since there is only one contact window, continuous improvement programs can be run more efficiently. However, outsourcing to a single manufacturer does not diversify your risks, as you are putting many eggs in one basket only. Let us now compare two typical PCB manufacturer types available for this souring strategy, each with its own specific peculiarities.
Selecting a medium size PCB manufacturer
Medium size PCB manufacturers (annual turnover USD 150 Mio – 250 Mio) are usually armed with equipment that caters best for their core competence technology. If they are requested – due to a single sourcing approach – to produce various technologies which do not perfectly fit their core competencies, compromises must be made. Hence, a situation has to be managed that presents itself as follows: Boards for the "not-so-good-fitting" technologies are produced on less than sub-optimal production lines and quality restrictions are more often than not the trade-off. Raw material costs may not be very competitive because the purchasing power for relatively small volumes of special materials remains limited. Little to no stock keeping for "out of the ordinary" laminates will extend lead times. Limited UL approvals for certain material combinations can send your project into a much unwanted waiting loop of around 3-5 months until approvals are granted.
Selecting a large size PCB manufacturer
Large PCB manufacturer (annual turnover USD 0.8 Bio to > 2 Bio) have sizable company overheads that will be reflected in the pricing. They lose flexibility and speed when demands for smaller lot sizes and fast lead times are to be covered. Because of their legal structure, decision-making tend to be relatively slow and can be perceived as being complicated. Looking at only the two examples above, single sourcing has advantages but does come with a set of challenges to be considered before a strategic decision is made to go down this path. Deciding on this relatively inflexible strategy can pose problems when working in a highly dynamic and fast changing demand environment.
Multiple Sourcing
With multiple sourcing, you enter into several, separate, parallel contracts with different suppliers to best cover the demand structure of your PCB portfolio. It is a rather flexible approach, although, you must spend considerably more time and resources to manage a broad range of suppliers (e.g. contractually, technically, quality-wise, claim-management wise). Chances are that the quality of each of the PCB technologies sourced via multiple suppliers is higher. The reason is that the individual manufacturers are rather specialized in various technologies using tailored equipment leading to optimized results. On the down side, however, duplicated responsibilities (managing multiple PCB suppliers) increase your management cost of this strategic approach noticeably. This multi-source management needs a very structured coordination in-house, since the multiple relationships across vendors tend to generate convoluted situations.
General Sourcing Trends
Two major trends are obvious. Firstly the focus on core competencies, and secondly the shift of value creation to suppliers, are the main tactics in Supply Chain Management (SCM) of large multinationals. With this, outsourcing and a closer more collaborative relationship with suppliers becomes inevitable. Consequently, reducing the supplier base is the natural result in the industry overall and the PCB industry in particular. The following examples will provide you with an idea of how large multinational companies (in all walks of life, not only in the field of electronics) position themselves on the question of supplier numbers.

Focusing collaboration on a narrowed down basket of suppliers drives the level of collaboration beyond just linking information systems. The final target is fully integrating business processes and organization structures across companies that comprise the full value chain. Today's SCM moves from pure execution (i.e. event driven) to a more information and relationship intense focus. SCM is a vital core strategy and needs smart talents to shape it.
The Third Way – Sourcing from a large credible fabless PCB provider
From the above explanations we learn that single as well as multiple sourcing have complementary advantages as well as challenges. Utilizing exclusively one or the other sourcing strategy will never benefit the customer with the combined advantages of the two models. The consequential question must be: Is there an alternative sourcing option that cumulates the advantages and minimizes the disadvantages of the two strategies? The answer is yes. The combined sourcing benefits can be harvested if sourcing from a fabless PCB provider. What are the attributes of a fabless PCB provider? A credible "Fabless PCB Provider" owns everything that is needed to produce PCBs, but the factories. Instead of a factory, the provider has a portfolio of production partners. This portfolio is strategically developed and assembled over years. Ideally, it consists of partners with little overlap in the selected technology segments with best-in-class performance in the individual disciplines (figure 1). In contrast, look at the performance situation of one typical single PCB manufacturer (figure 2).

Sourcing from a large credible fabless PCB provider helps you benefit from the combined advantages of both traditional sourcing strategies – single sourcing and multiple sourcing. A credible fabless PCB provider is your single pivot point engaging multiple factories that are all tailored optimally for your required PCB technologies. If your company agrees with W. Edwards Deming's 14 points for management then following the approach "The Third Way – Sourcing from fabless PCB provider" come only as a natural result. In the 1950s, Deming had major impact on the manufacturing and business world in Japan. Many of his 14 points are embedded in the concept and goals of sourcing through a credible fabless PCB provider. Since a fabless PCB provider has everything that is needed to produce PCBs, but a factory, he will concentrate 100% on all supporting tasks with Deming's 14 points in mind. Using a fabless PCB provider as your single point of purchase and project manager for all PCB supply related tasks (quality, logistics, factory audits, technology scout, even PCB education), you are able to turn a supplier relationship into a value creating long-term learning relationship. The elimination of multiple and repetitive processes (e.g. scouting for suppliers, contract negotiations with each and every supplier, multiple supplier management, implementing standardized quality requirements across all suppliers) in your organization is another building block to keep your own SCM organizations lean and focused on core competencies. Reduce internal processes and use bundled sourcing through a credible fabless PCB provider.
Cost Consideration
A reactive PCB supply chain manager was yesterday. Today, he/she pro-actively manages the strategic supply chain, or more precisely the Total Cost of Ownership (TCO)- see figure 3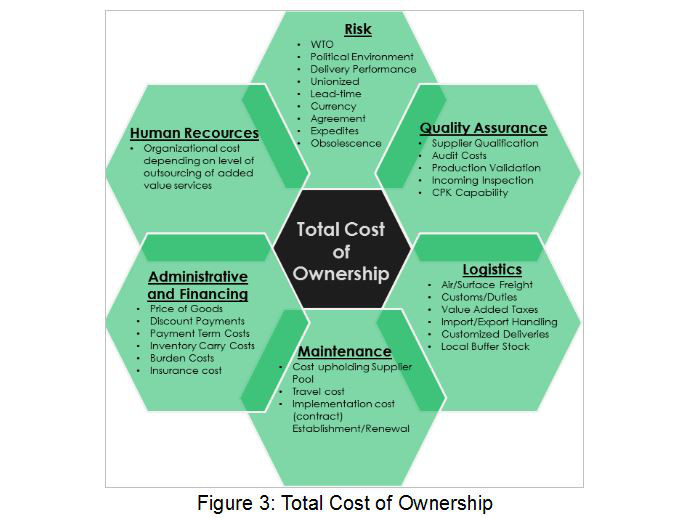 The analysis of customer requirements provides the basis for determining the cost drivers associated with purchasing the product and service. The supply chain manager has the right to expect product and services of the "right quality, from the right supplier, in the right quantity, at the right time, and at the right price." But what is the most and least important factor of all the expected "rights…"?. A value stream mapping exercise comes to the rescue as it identifies the cost drivers to deliver product and services. Once identified what most and what is least important, the SCM must work closely with the PCB provider to shape a TCO model for its individual case and eliminate non-value added activities. We need to understand that, what is regarded as value-added can be different under various circumstances. The author's publication "PCBs from Asia traded by western PCB manufacturer" proves the above. The customer, "PCB manufacturer", souring from a fabless PCB provider can have a very different TCO model than, for example, an EMS supplier. The "PCB manufacturer" may not want the product qualification (e.g. climate chamber, temp cycling tests) to be done by the PCB provider. Since he is in a similar business to the fabless PCB provider, he might want to use his own test lab and does not require this service from the fabless PCB provider. A successful supply chain manager knows how to find a trustworthy PCB supply partner who offers the most flexible solutions to meet the ever-changing customer requirements. He/she understands the trend that it's not the big that eat the small, but it's the fast that eats the slow. Cooperating with a fabless PCB provider who offers individualized solution can be a further benefit. Individually picking services that are important to have available locally (yellow part in Figure 4) vs. those services (lesser importance – faded part in Figure 4) that can be provided from offshore locations at a different price point, can help shaping your individual TCO situation. It ranks services according to importance, keeping the one that are essential close to you. The results: An individualized, lean, efficient and dynamic outsourcing solution.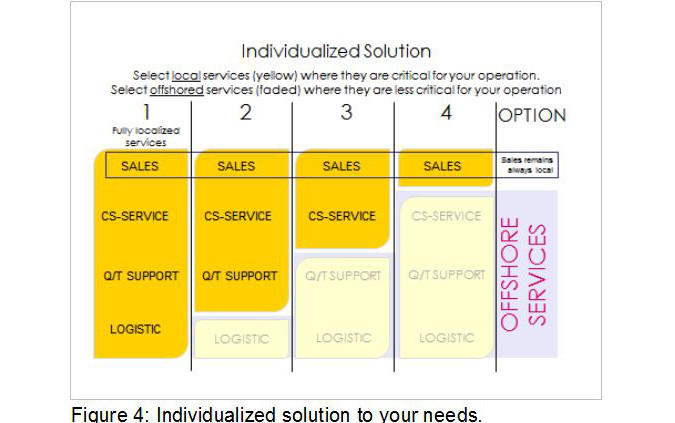 What's the take-away?
The learning curve costs for your organization is minimized when you go with the third sourcing approach "sourcing through a fabless PCB provider" – explained in this article. One of the fabless producer's added-value come from: being specialized in most efficiently managing a complementary pool of multiple PCB producers. A fabless producer lives it breathes it. It is his daily bread. Engaging Total Cost of Ownership models provides the sourcing professional the arguments that sourcing through a fabless PCB provider offers the highest flexibility with the lowest maintenance cost of possible outsourcing models. Forward looking SCM strategists are beginning to discover the value for them more and more. Proof lies in the positive turnover development of fabless companies. In the last five years credible fabless PCB provider grew always above market. In general the growth was double digits. During daily work with clients from around the world, it can be seen more and more that a single point of sales is preferred over multiple points of sales. The convenience factor for the SCM is the highest with this model. ----- Author: Theo Langer,VP Sales Asia & Sales Coordinator Worldwide for
© CML
in Hong Kong and China.