Analysis | November 03, 2014
ESIA: Semi sales line with worldwide development
European semiconductor sales in Europe continue to show strong Year-on-Year growth, the ESIA reports.
In September, sales in Europe reached USD 3'220 billion, a 7.9% growth compared the same month one year ago. This result is in line with worldwide developments: globally, semiconductor sales grew by 8% compared to September 2013. All growth figures represent a three month rolling average.
The steady European growth was confirmed by third quarter results and by good developments in semiconductor sales since the beginning of the year (YTD basis). In the third quarter of 2014 European semiconductor sales reached USD 9'660 billion, an increase of 0.9% from the previous quarter and an increase of 7.9% versus the same quarter a year ago. On a YTD basis, semiconductor sales increased by 9.5% versus the same period in the year 2013.
Main drivers in September were Discrete semiconductors (up 1% compared to August), Sensors & Actuators (up 1.7%), MOS Microcontrollers (up 0.9%) MOS Microprocessors (up 1.4%) and Logic devices (up 3.7%)
Looking at semiconductor devices designed to be used in specific applications, the strongest growth in September was registered within the IC cards application category and by the computer, automotive and wired communication categories.
On a worldwide basis, semiconductor sales in September reached USD 28'998 billion, up 1.9% compared to the previous month and up 8.0% versus the same month in 2013. Sales in total third quarter were up 5.7% compared to the second quarter and up 8.0% compared to the third quarter of 2013.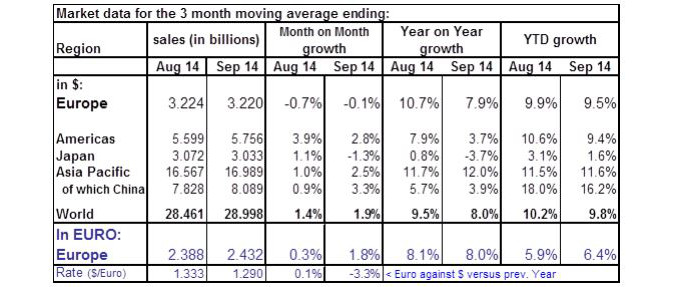 © ESIA
Related news
Load more news