Electronics Production | September 10, 2014
15 years of Bitron Sosnowiec
It all started with easy projects from the automotive industry - but now, 15 years later - Bitron is planing to expand its R&D department focusing on electronics for medical and automotive.
The Sosnowiec facility (in southern Poland) was established 15 years ago. Silvio Brignone, who recently came back – after 9 years in China – to head the Polish factory as a CEO, reminisces about the beginnings: "We started with limited investments and easy projects from the automotive industry. Such as for the Fiat Seicento, which was transferred from the Italian unit. But after just three months, we employed the first person for our R&D department. Even though Poland caught our attention as a low cost country; Bitron's philosophy was a little bit different. From the very beginning, we intended to, quickly, create a strong competence centre."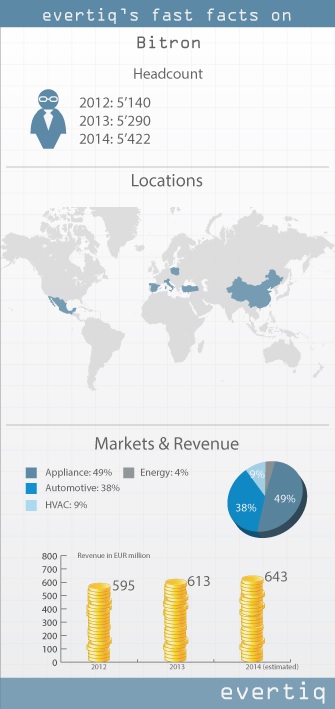 The Sosnowiec facility consist of two main units – electromechanical and electronic – which, bring about 50% of sales each. Main focus for the facility are the segments Automotive, Appliances and HVAC. "Today, our main business operation in Poland revolves around electromechanical. As a result of the early establishment of a strong R&D centre, we became a global leader for two important products for the appliances industry: aqua stop systems and fluid dispensers for dishwashing equipment. It means that Sosnowiec is an innovation and development centre for these kind of products; for the entire Bitron group", says Silvio Brignone.
Electronics competence centre
"Even though both activities are equally important when it comes to sales, when it comes to electromechanics, we are quite independent from other units within the group to create new growth opportunities. This again, can be linked to our R&D capabilities. Our main focus for the nearest future is to develop electronic sales through the establishment of an R&D unit focused on medical and automotive electronics", Silvio Brignone says about his plan for next few years. The plan is already at the implementation stage: beside several SMD lines – based on Siemens and Hitachi equipment – working at the facility, a new Fuji line is to be installed in autumn 2014. Furthermore, the company is going to hire 10 design engineers over the next few months. To enhance the sales force, a sales manager in Poland, Paweł Mroziński, was employed. He is working alongside 2 staff, which are creating new opportunities for the electronics unit in Italy. "We can see many growth opportunities for electronics in the automotive and the medical industry. Especially the German market is very attractive for us and a strategic target. Two years ago Bitron successfully established an R&D centre in Germany, focused on innovative electromechanic solutions. Now we want to follow this model by establishing an electronic competence centre close to this reliable and stable market", says Paweł Mroziński.
Offshoring close to home
Silvio Brignone has spent 9 years managing the Bitron factory in China: "China and Poland are two different markets. European companies develop their projects step by step, following a previously established plan. Asia is much more reactive and fast, things change every day." "Something that still brings great attention to both Asia and Eastern Europe is the cost level. Wages in China are continuously rising, while they stay stable in Poland. Young workers in China – especially in Shanghai or Beijing on the East Coast – have now much bigger expectations from their lives than they used to have just a few years ago. Looking for a job, they dream about cars, apartments, holidays and two children, like their colleagues all over the world. And these needs can't be satisfied at a low salary level. Still, you have a flood of people from provinces further inland, which are eager to do any job at any price. But this stream of labour supply is slowly drying up too", says Silvio Brignione about recent changes within the Chinese market. Infographic
© evertiq