Analysis | November 29, 2013
Touch screen penetration in notebook PCs modest, but on the rise
Touch-panel notebook PC shipments will reach 19.8 million units, or 11 percent penetration, in 2013. By 2017, touch-panel penetration is expected to reach nearly 40 percent (64.2 million units) according to NPD DisplaySearch.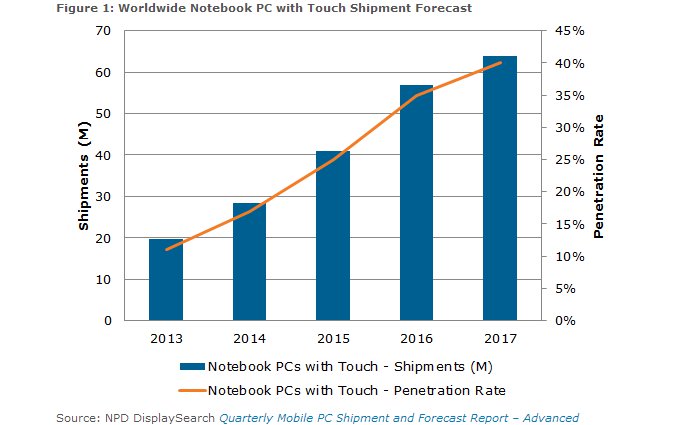 During the first half of 2013 (1H'13), global shipments of notebook PCs with touch screens reached 6.2 million units, or 7 percent share of the overall notebook market. Ultra-slim PCs led touch-screen penetration in the overall notebook PC category, with 1.7 million units, followed by standard notebooks, with 4.5 million units. ASUS had the most shipments of notebooks with touch interfaces in 1H'13, followed by Lenovo, Acer, HP and Sony.

"Touch penetration in notebooks was modest in the first half of the year, and we expect a slight increase to 10% in the second half. Premium pricing and a lack of compelling uses for touch screens on notebooks continue to hinder adoption," said Richard Shim, senior analyst at NPD DisplaySearch. "As touch interfaces become increasingly common across all mobile devices, however, it is just a matter of time before the technology also becomes more prevalent in notebooks." Factors encouraging adoption include Intel's mandate that third-generation Ultrabooks include touch, as well as hybrids, sliders, convertibles, and other new touch-friendly form factors that will become more common in the years to come. "A touch panel on a clamshell notebook seems less intuitive than it does on a tablet-like device, which is better suited to touch interactions," according to Shim.
© DisplaySearch