Electronics Production | November 05, 2013
Kimball profits from automotive
Kimball reported fiscal 1Q/2014 net sales in the EMS segment increased 7% compared to the first quarter of the prior year on double-digit sales growth to customers in the automotive and industrial industries.
Net sales to the public safety industry declined compared to the prior year while sales to the medical industry remained flat. Gross profit as a percent of net sales in the EMS segment for the first quarter of fiscal year 2014 declined 0.1 of a percentage point when compared to the first quarter of the prior year. The current year first quarter gross profit was negatively impacted by a $0.6 million inventory write-down related to products specific to a former customer.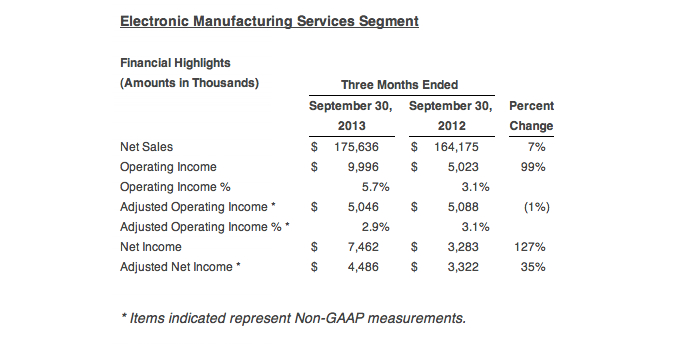 © Kimball International
James C. Thyen, President and Chief Executive Officer, stated:
"In the EMS segment, the automotive end market is benefiting from relative strength in the U.S. market and improvement in the Chinese market which contributed to a double digit increase in our first quarter sales to the automotive market compared to last year. Industrial market demand is also improving. While first quarter sales increased over the prior year first quarter in this segment, sales were down compared to the third and fourth quarters of fiscal year 2013 when we surpassed our 4% operating goal. The lower absorption of our fixed costs as a result of the lower revenue was the primary driver for missing our 4% operating income goal in the first quarter."
Related news