Analysis | September 23, 2013
iPhone 5s: Enter Bosch Sensortec
At first glance we're seeing a lot of familiar components with the major standouts being the new A7 processor and two new MEMS devices.
There is also a new power management IC by Dialog Semiconductor and a new audio codec and class D amplifier by Cirrus Logic. Chipworks has been able to locate the M7 in the form of the NXP LPC18A1. This represents a big win for NXP. "We had anticipated the M7 to be an NXP device based on input from industry analysts and our partners and we are happy to see this to be the case." The compass is AKM's AK8963; the 3-Axis Gyroscope (a device with package markings B329) has been identified as an STMicroelectronics as expected. But the accelerometer is actually a design win for Bosch Sensortech with their BMA220 3-axis accelerometer. Previously this has been a socket dominated exclusively by STMicroelectronics. Great socket win Bosch! The A7 is made on the same process as the new Samsung Exynos 5410, the 28-nm HKMG process.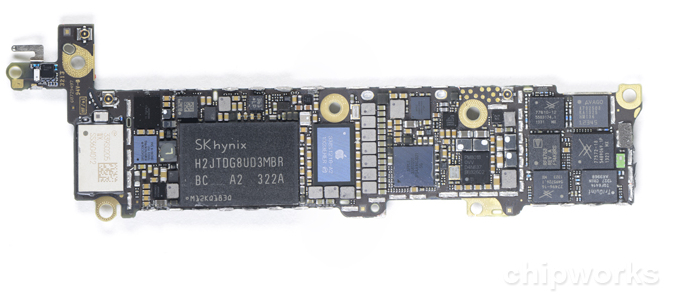 Which is preferable, more pixels or a sensor with higher sensitivity? We all would like to have both, however at some point camera system and chip designers have to turn the knob towards one or the other. Apple has opted to stand on an 8 Mp resolution for the 5S iSight camera, but have increased the active pixel array area by 15%. With the help of a larger f/2.2 aperture, the system delivers a 33% increase in light sensitivity. The iSight camera has DNL markings which are consistent with the markings on the camera modules housing the Sony IMX145 we saw in the iPhone 5 and 4s. The iPhone 5S 8 Mp iSight camera module is 8.6 mm x 7.8 mm x 5.6 mm thick. The new iSight camera module has been refreshed with a custom 1.5 µm pixel pitch stacked (Exmor-RS) Sony sensor. The side-view X-ray image shows us what is now conventional packaging for Apple's iSight cameras: a ceramic chip carrier with a back-mounted, back-illuminated CMOS image sensor (CIS) chip. Bump bonding is used to connect the die signal pads to the chip carrier lands. A decap and quick peek through our microscope shows the telltale signs of a Sony Exmor-RS sensor. We first saw Sony's stacked CMOS image sensor chips (using through-silicon vias -TSVs) in the 8 Mp ISX014 from a Fujitsu tablet, and then in the 13 Mp IMX135 from the Samsung Galaxy S4 primary camera (The CIS is stacked on the image signal processor – ISP).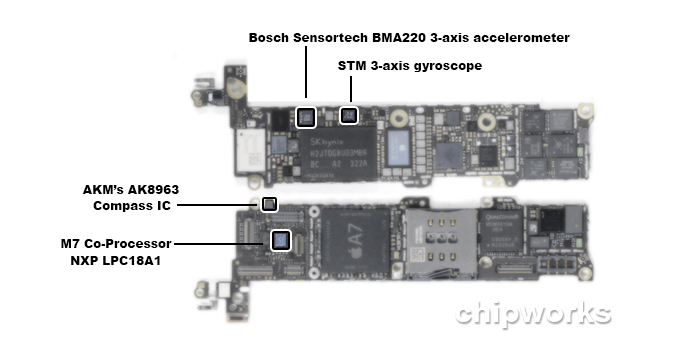 Contained within the Wi-Fi SoC module is the BCM4334 which seen before in the iPhone 5. It includes IEEE 802.11 a/b/g/n single-stream MAC/baseband/radio, Bluetooth 4.0 + HS, and an integrated FM radio receiver. It is designed to be used with external 2.4 GHz and 5 GHz front-end modules, which include power amplifiers, T/R switches and optional low noise amplifiers. The 4g LTE Modem is a Qualcomm MDM9615M. This device utilizes a two-chip solution in the form of a Samsung DRAM to retain carrier specific information and a Samsung-fabricated LTE baseband processor.
Other Design Wins
As already stated in collaboration with iFixit, below is a list of some of the other design wins on the iPhone 5s' two-sided circuit board:
The touchscreen controller is Broadcom BCM5976A0KUB2G
The LTE Modem is Qualcomm MDM9615M
The LTE/HSPA+/CDMA2K/TDSCDMA/EDGE/GPS transceiver is Qualcomm WTR1605L
The RF power management IC is Qualcomm PM8018
The NAND flash is SK Hynix H2JTDG8UD3MBR 128 Gb (16 GB)
TriQuint TQM6M6224
Apple 338S1216
Texas Instruments 37C64G1
Skyworks 77810
Skyworks 77355
Avago A790720
Avago A7900
Apple 338S120L
----- Source: Loads of information on this and other teadowns can be found at
© Chipworks
.