PCB | August 08, 2013
Aspocomp's Q2 – a lot like Q1
Aspocomp's second quarter net sales remained on par with the previous quarter at EUR 4.8 million, which for the company is a rather disappointing result.
As a result of the sluggish market, the company has once again adjusted the full-year net sales forecast.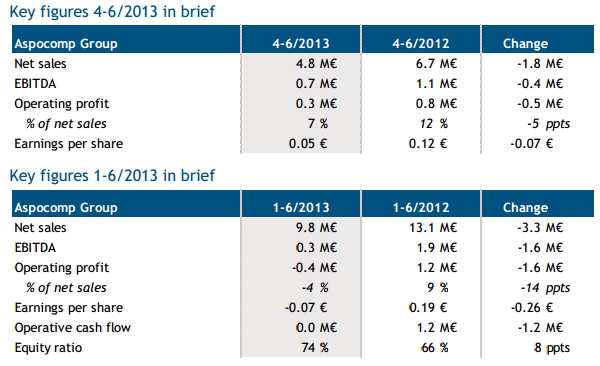 © Aspocomp
Aspocomp CEO, Sami Holopainen, gives his review of the quarter: "Demand has remained slack in 2013. Every time the situation improved, a weaker period followed, and the market softened as summer approached. The telecommunications sector remained down. Our net sales remained on a par with the previous quarter at EUR 4.8 million and therefore the net sales of the first half of 2013 amounted to a disappointing EUR 9.8 million. The operating result was EUR -0.4 million, which was improved by a one-time item. Cash flow from operations during the period was EUR 0.0 million. Aspocomp's gearing ratio is negative and the financial ratio is still good, which has enabled us – and will enable us in the future – to step up our development of business with new customers and customer segments. In addition to the intensified sales efforts we have focused on stringent cost control and made arrangements to optimize our capacity utilization. We still expect demand to pick up during the second half of 2013. However, due to the slow recovery, we have again adjusted our forecasts for full-year net sales and operating profit slightly downward."
Outlook for the future
Net sales in 2013 are expected to amount to EUR 20-23 million and operating result to EUR -1.0-0.0 million.