Electronics Production | July 26, 2013
Flextronics exceeds net sales guidance
Net sales for the first quarter (ended June 28, 2013) were USD 5.8 billion, exceeding Flextronics' previously provided revenue guidance of USD 5.3 to 5.6 billion.
Flextronics' adjusted earnings per diluted share of $0.18 in the first quarter ended June 28, 2013 also exceeded the company's previously provided guidance of $0.12 to $0.16.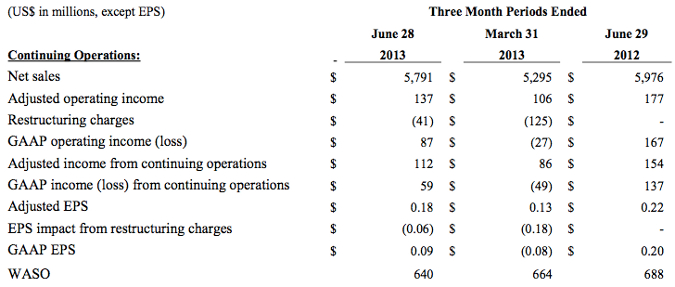 © Flextronics
"We remain focused on our execution and our first quarter results reflect progress towards the financial plan that was outlined at our recent Investor & Analyst Day," said Chris Collier, CFO of Flextronics. "We are well positioned and fully committed to increasing shareholder value and are confident in our ability to deliver continued improvement in our operating results." "We continue to see signs of stability in the macro-environment that are encouraging," said Mike McNamara, CEO of Flextronics. "Our revenues are expanding and our margins are improving. We continue to invest strategically in our business and further strengthen our position as the premier supply chain solutions company."
Guidance
For the second quarter ending September 27, 2013, revenue is expected to be in the range of $6.1 billion to $6.4 billion and adjusted EPS is expected to be in the range of $0.19 to $0.22 per share.