Electronics Production | June 25, 2013
Finnish know-how drives JOT
Here at evertiq we often provide you – our readers – with list of the top dogs in both the EMS industry and the PCB industry. But sometimes we need a reminder of how these companies became so big; because of other companies, such as JOT Automation.
JOT Automation – a specialist in production and test solutions – with a clear focus on going forward in telecom, automotive and life science. The Finnish company just recently moved its HQ back to its roots in Oulu, Finland. This, we here in the Nordic region like, as our patriotic sense is not always restricted to our country of birth, but often the whole Nordic region as such. And this might also be one of the reasons why I liked talking to JOT Automation's CEO, Mika Kettula, so much. I liked hearing that a company with strong Nordic ties were doing, not only ok, but advancing and not looking to slow down any time soon. "JOT has seen a significant turnaround compared to last year – we're on track right now to almost doubling our revenue compared to last year. And are working with a number of new key accounts that we hope will continue to grow into successful relationships."
Has that been a focus – or should we say strategy – for the company?
"I think that compared to last year, we have been a bit more driven by finding key accounts and the success that those key accounts have with their own product on the market. That kind of focus is more important than what the general trend in the electronics industry is."
JOT mainly specialises in telecom and you have a long history there. Is it safe to assume that these new key accounts are within that industry?
"Actually, we have made some new breakthroughs, not just in the telecom industry, but also within automotive and in life science."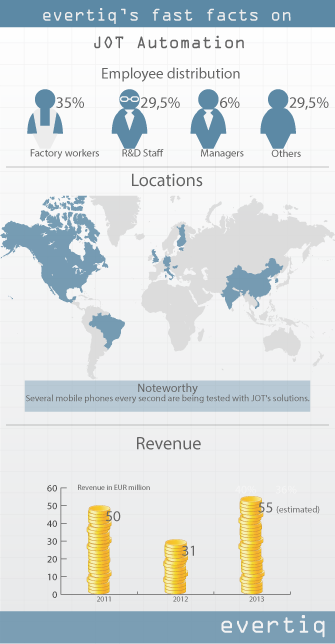 Mr. Kettula explains that the primary focus still lies within the telecom industry – which is what is driving the company at the moment. There has been some good development in the industry. "It is definitely our focus – it is our background – we've been in that industry for 25 years and we've recently come out with some new products – especially in the area of cell phone test, both at board level and the final product." However, telecom is far from the only focal industry for the company. While it may be the industry that is carrying the legacy of the JOT brand – it is not the only area of interest for the company. "At the same time we are actually working with, since a year or two, with life sciences. One reason for that is that the products there are quite similar to products within the telecom industry regarding the kind of tests that you may have to do and the size of the products. Also the type of technology required to manufacture those products is similar." "And the same applies to the automotive industry. As you know, cars today have a huge amount of electronics incorporated within them – there are a lot of synergies there as well."
Ok, so we've covered your primary industries. What about geographical markets, which one excites you the most?
"Right now, I would say China and Asia, for obvious reasons. We've been there for a long time, a big part of the electronics industry is already there, and you have a growing customer base in several of the industries we are involved in."
So the reports of a slowing down of the Chinese economy is not something that scares you?
"No, we're not really seeing any of it yet, and the size of the market is so enormous that there are plenty of opportunities for us" "I think that one trend that we are seeing is the need for automation in China. And this is for several reasons; one is quality driven. Not having anyone touch the products, having a uniform test process. And secondly, the issues with finding qualified people for parts of the manufacturing process." However, with the movement that is taking place within the electronics industry – companies moving back production to the Americas – both Mexico and the US are looked at with interest, Mr. Kettula explains.
Let's go back a bit. Like you said, JOT has a long history in the industry. How do you feel that you stack up against the competition?
"Well, I think in the area of electronic tests and especially cell phone test, we stack up pretty well against the competition. By having done it for so long; in some areas there are no others that have our history and capabilities. I assume there are any number of companies that may be interested in jumping into that market, but very few that can state that they have our level of experience in it." JOT is a company with a long history, and within that history they've been through a lot. The insolvency of the Rohwedder Group for one thing. The company managed to climb that hill by communicating clearly with their customers, and retaining their trust in JOT's business and knowhow. Infographic:
© Evertiq