Electronics Production | May 21, 2013
Foxconn: Long way to go in reducing work hours
Foxconn Technology Group faces a challenging task in trying to meet a July deadline for cutting work hours and improving union participation, said the FLA in its latest progress report.
Inspections of 3 Foxconn factories began in February 2012, when the Fair Labor Association (FLA) assessed working conditions and the treatment of workers at three Chinese factories manufacturing Apple products, which are owned and operated by Hon Hai Precision Industry Co., Ltd. (Foxconn) in Shenzhen and Chengdu. The new report shows that the EMS-giant has resolved 98 percent of the 360 issues raised by the Fair Labor Association. But the 2 biggest issues - overtime work and union participation - still remain.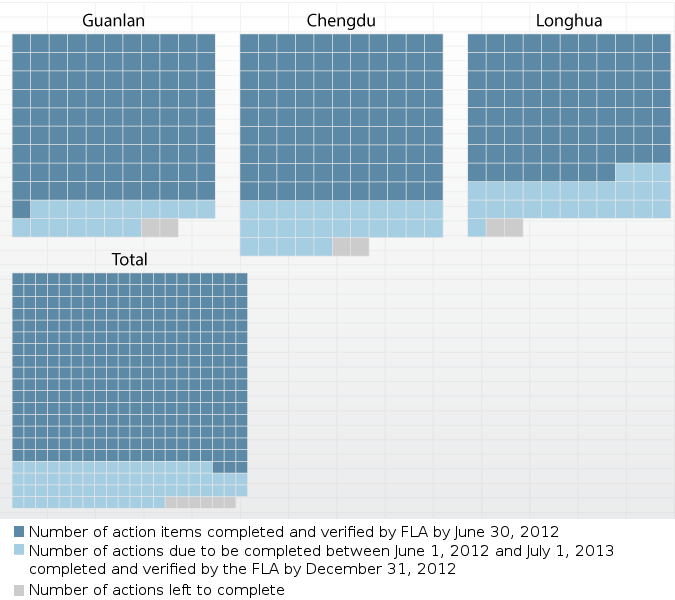 © Evertiq
Overtime Work
With respect to hours of work, FLA assessors confirmed that workers at the Longhua and Chengdu facilities worked between 40 and 60 hours during every week of the period under review; the same was true in the Guanlan facility, with the exception of two weeks in September and one in October when working hours were between 40 and 70 hours per week. "Foxconn has made significant progress in reducing hours to 60 per week (including overtime) consistent with FLA and Apple's code standards, with the goal of reaching full compliance with the Chinese legal limit of 40 hours per week plus an average of 9 hours of overtime per week while protecting worker compensation", the report sees. However, reaching China's legal limit of 40 hours a week plus an average of nine hours of overtime by the end of July 2013 will be a tough one for the EMS-giant. Especially, when considering the seasonal nature of consumer electronics and its production. Add to that an increasing shortage of workers, fixing that problem will be difficult.
The problem with internships
Foxconn also improved management of internship programs after several incidents with underaged workers at one of their factories (Yantai). The FLA found no interns had been engaged at Chengdu since September 2011 and interns had not been engaged at Longhua since June 2012. At Guanlan, a total of 1'392 interns were employed in the second half of 2012 in three groups (374 in June 2012; 1,001 in July 2012; and 17 in September 2012). The internship program for the last group of interns at Guanlan concluded on January 5, 2013. "All of the planned actions regarding the internship program due for this verification period had been completed. One remaining item is due for completion by June 30, 2013."
Union Participation
FLA assessors reported notable increases in the participation of workers in union, the report states. Employee representatives increased to 39 percent in the Guanlan factory, 41 percent in Longhua and 30 percent in Chengdu. While the FLA sees the changes favorably, others - such as SACOM - see Foxconn's efforts as playing to the ranks. (
Evertiq reported
.)