Electronics Production | May 17, 2013
Top Polish EMS
With all the hype around the world's biggest EMS companies and different lists comprised on revenues and headcount, we thought it would be interesting to take a closer look a one specific country's EMS-market. How does that list look?
Methodology
The rankings comprise companies of Polish capital only. Companies are ranked according to revenue in 2012. Except Sonel SA, where data are taken from the Annual Report. The companies included in the ranking declared revenue volume themselves. The companies are divided into three groups: The top three in the red table. Companies with income exceeding 5 ml PLN (EUR 1.25 million) in the blue table. And the rest of companies in the green table. In many cases companies are active both in production and marketing of their own products as well as in the EMS market: please see the notes below each table describing these cases. Also, Tabemax and Novil work with a special custom duties system, causing them not to show the value of components in their books.
The top dogs

© evertiq
-Annual revenue in thousands of EUR. There is no suprise to the first position: Fideltronik. Let us only congratulate and sum up, that Fideltronik could be surely described as a company of pan-European scope of activity. TS Tronic is ranked in second place. The company is a part of Group Techno-Service S.A. and … there is no surprise also: everybody knows its long history and international experience. However, the third place is somewhat of a surprise to us. Elektrozel, is one of the youngest companies in the ranking, let's remember that the entity was spun out form Zelmer SA (now a part of Bosch-Siemens group) in 2010.
5 ml PLN and above
The blue table we consider the most interesting. Here, companies with revenue exceeding 5 ml PLN (1.25 ml EUR) were placed. Let us notice, that most of the companies recorded growth in 2012. Especially, it is worth to point out that BeSo's income rocketed from 4 ml PLN in 2011 up to 9 ml PLN in 2012. With +125% increase of revenue, making the company our growth leader.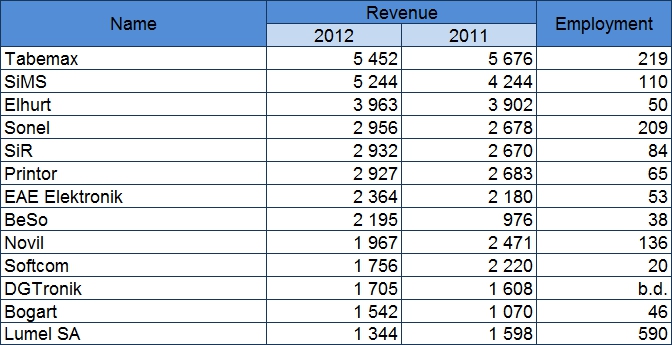 © evertiq
-Annual revenue in thousands of EUR. *Tabemax and Novil work with special custom duty procedures, which results in the fact that they don't show value of components in their books. **SiMS – total revenue, including company's own products *** Elhurt, Sonel, Softcom, Lumel – revenue on EMS market only
Small companies grow fast
Small scale activities are quite often considered an advantage within the EMS market. Many say that such a type of EMS entity can offer the highest level of involvement and support in the customers' business. What is more important, according to data sent by these companies, we can say that they are able to grow really fast! Almost all of the companies in the green table recorded significant growth in 2012.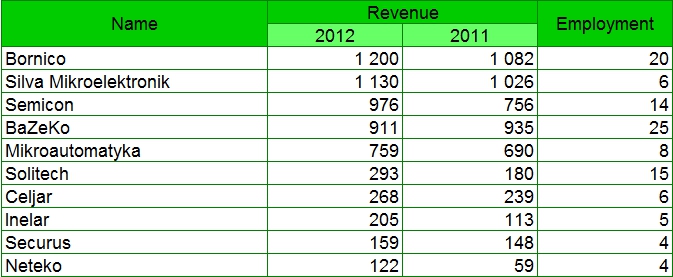 © evertiq
-Annual revenue in thousands of EUR. *Silva, Semicon – revenue on EMS market only