PCB | May 07, 2013
Icape Group – your local global company
Icape Group – the French PCB trader is focusing on its global footprint – to be and operate where the customers are, being local while being global – that's the aim.
Just listen to this: The company is heavily represented in China and Europe. Sales span over North-, Central- and South America and now also includes South East Asia. Icape are setting up operations in Russia, India and are looking to further expand in South America and also South Africa.
So, how did the French company get to have this massive world wide reach? – Evertiq took some time to talk to Mr. Thierry Ballenghien, President of Icape Group.
The company started doing business all around the world about eight or nine years ago from China. And after awhile, the company started to see success in certain regions and with that they started pushing more aggressively into those regions too, Mr. Ballenghien explains.
"When countries start go grow, they gain our attention. Actually there are some countries that we have discovered to be, lets say 'the next country for the future'. We see the number of customers in this country increase significantly. When we are winning not just one, two or three customers, but 20 in a specific country – then it might be time to adjust our sales organisation to be even more present in this specific country or region."
"We also exhibit on as many fairs as we possibly can. You get a feeling for where the interest is coming from, just by observing the nationality of the people showing interest. So just by being observant, you can learn a lot about customers and future customers."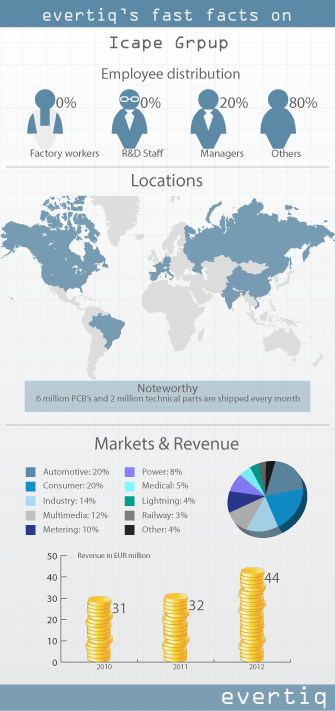 We can all agree that 2012 was something of a mediocre year for a big part of the industry, but Icape managed to report on a 35% growth, how did you manage?
Mr. Ballenghien explained that the company have had some aggressive sales in emerging countries, and had put a lot of focus where the economical growth has been a lot higher than in Europe.
"We have been winning a lot of our new customers in regions where the economic growth is higher than in Europe. Today, we have some 70 sales staff. And let's say – if all of them win three new customers, that's over 200 new customers."
"And because all of these new customers from all around the world, we were able to achieve 35% growth in 2012. And this year, our sales staff is expecting a growth of 25%. But in fact, it's going to be much more than that as we are actually breaking our record month after month. So we're expecting more than that, we are looking at something more in the line of 30 – 35%."
But Icape is far from finished growing – the company is not only focused on their internal growth, but also looking for some external growth. Expanding their already hugely global footprint to be even more global.
"We, of course, win a lot of new customers in Brazil, South East Asia and in Eastern Europe, but also in some Central European countries such as Italy and Germany, and even France. But the biggest growth for us is coming from emerging countries. So we are going to carry on with that strategy. We are currently in the process of opening a company in Russia and in India."
"So, we look at outside growth; we will open new sales offices and of course continue hiring new agents. So I see the group growing. Over the next three years, we will probably have established six or seven more companies. Some of them will be trading companies, others might be prototype shops that we have bought. Still others will be sales offices that we opened and established ourselves."
Investors show a lot more interest in the Icape Group. But, as Mr Ballenghien explains, growth for the sake of growing is not their style. "If we want to buy a competitor or open up a new business, it's not because we like to be bigger – it's because we see an opportunity."
Imagine Icape's growth strategy as a circle. When buying more, they can receive better prices from their suppliers – which in turn will benefit the customers and increace the efficiency of the group. This will then lead to more customers. And the circle starts all over again.
In Europe, the company is – in their own words and estimation – the number 2 when it comes to size. But the majority of business – over 60% to be more specific – is made outside of Europe. As way of comparison, 19% in made in France.
Infographics
© Evertiq
Load more news