Electronics Production | February 07, 2013
Restructuring of Fujitsu's semiconductor business
Fujitsu Limited and Fujitsu Semiconductor Limited announces the restructuring and new direction of their semiconductor business.
Restructuring and new direction of semiconductor business
Since fiscal 2009, Fujitsu and Fujitsu Semiconductor have advanced their semiconductor business in accordance with a proprietary "fab-lite" business model. Since fiscal 2011, however, this business has been confronted with an extraordinarily difficult operating environment as sales declined due to fast-deteriorating market conditions and an increasingly severe competitive climate. In response, the companies accelerated the fab-lite strategy, starting with the transfer of ownership of Fujitsu Semiconductor's Iwate Plant and LSI assembly and test facilities. Seeking to further develop their semiconductor business, and to build a more robust foundation for business based on their portfolio of technologies, Fujitsu and Fujitsu Semiconductor have considered a variety of options, including talks with outside companies. Fujitsu and Fujitsu Semiconductor have now decided to establish a new fabless company with the integration of Fujitsu Semiconductor's system LSI business with that of Panasonic Corporation. Another initiative is the deliberation on the transfer of the Mie Plant to a new foundry company, including Taiwan Semiconductor Manufacturing Company Limited (TSMC). The decision has been made to move forward on planning to establish a new foundry company, to which Fujitsu Semiconductor's Mie Plant is to be transferred. As a result of these decisions, the scale of Fujitsu's system LSI business will expand and be operated as an independent company.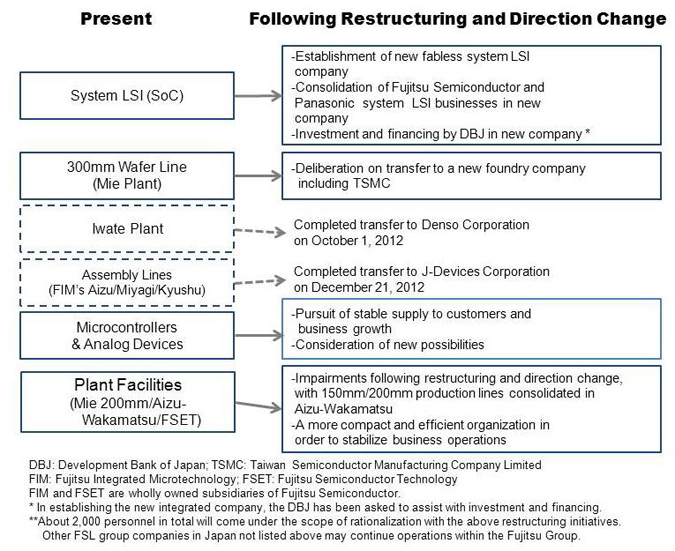 © Fujitsu