Electronics Production | October 10, 2012
Peter Brent: 'EMS total revenues to experience slow growth'
Transfer of electronics production from Asia to Europe is likely to see continued growth but Western Europe won't see much of it according to analyst Peter Brent.
EMS, as well as PCB production capacity, has been in decline in Western Europe over the past few years. Much of it has moved to the Asia/ Pacific region.
Looking back at 1995, most electronics production - 75% - took place in high-cost regions. Only 3% of electronics products were 'Made in China'. Sixteen years later the picture has almost been reversed. 37% of production occurs in high-cost regions and 63% takes place in low-cost manufacturing locations. Almost 30% of the latter is in fact now 'Made in China'.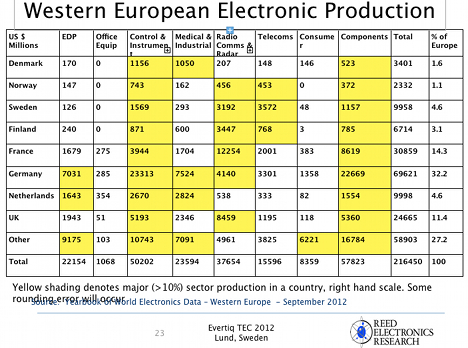 © Peter Brent
The transfer of production back from Asia to Europe, a recent topic of analysis and discussion, has mostly benefited locations in Central and Eastern Europe.
Peter Brent still expects EMS total revenues to experience slow growth, with improvements expected in late 2013. When it comes to those sectors with growth potential, he names Medical/ Industrial, Control/ Instrumentalisation, Automotive, Aerospace.
Summary of the presentation (1:11)
EDITOR'S NOTE_ Transcript: Summary
- Focus by OEMS on cost reduction.
- Very challenging environment in the next 2 years.
- Outsourcing by OEMs will increase, because OEMs will have pressure from their shareholders and people who own equity in the company. To actually say 'do what you do best - which is the design and the marketing - and get somebody else to make this.
- continuous progression of electronic outsourcing from Western Europe. Although we're gonna get topped up, it will continue leaking away to Central / Eastern Europe.
- There will be further consolidation of EMS companies across all groups. A year ago, if I had put that slide up, Elcoteq would have been in that top group and they would have equalled six. They are no longer with us.
- And there will be consolidation, as larger EMS or EMS with capital want to acquire other manufacturing companies in other countries perhaps, or adding skills, adding markets.
So overall, the EMS total revenues will experience slow growth. But they are expected to improve in late 2013.

-----
More information on the subject can be obtained from Peter Brent directly at
Mathieson & Brent
.
Related news
Load more news