Electronics Production | July 30, 2012
Celestica: Slightly lower Q2
"Celestica continued to generate cash and achieved solid returns on invested capital in the second quarter, despite the challenging demand environment and the beginning of the wind down of our Research in Motion (RIM) manufacturing business," said Craig Muhlhauser, Celestica President and Chief Executive Officer.
"Our priorities continue to be further diversifying our customer base and developing new capabilities to increase the value we deliver to our customers, while taking measures to prepare for an increasingly difficult economic environment."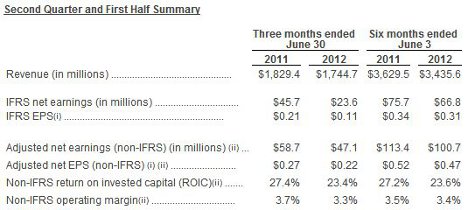 © Celestica
Third Quarter 2012 Outlook
For the third quarter ending September 30, 2012, we anticipate revenue to be in the range of $1.6 billion to $1.7 billion, and adjusted net earnings per share to be in the range of $0.17 to $0.23.  We expect a negative $0.08 to $0.14 per share (pre-tax) aggregate impact on an IFRS basis for the following items: stock-based compensation, amortization of intangible assets (excluding computer software) and restructuring charges.