Electronics Production | June 20, 2012
3Q profit down for Jabil Circuit
Jabil Circuit reported preliminary, unaudited third quarter net revenue of $4.3 billion for fiscal year 2012.
"We are pleased to post core EBITDA margins of 6.5 percent in the quarter, our highest level since 2005. Core operating margins also expanded to 4.5 percent," said Timothy L. Main, President and CEO of Jabil. "This is particularly gratifying during a period of more subdued revenue growth for the company overall." Revenue from Diversified Manufacturing Services increased to $1.9 billion, a 22 percent year over year increase, and accounted for 44 percent of total revenue in the third fiscal quarter of 2012. Jabil's High Velocity business represented 25 percent of total revenue and its Enterprise & Infrastructure business accounted for 31 percent of the quarter's revenue.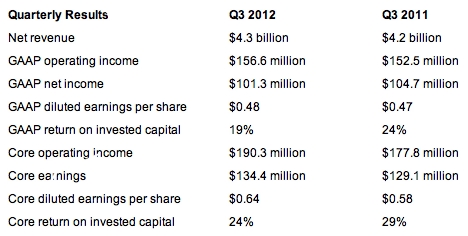 © Jabil Circuit
The Florida-based EMS-provider also indicated it was selected as a "go-forward partner" for a mobile phone customer. Although the customer was not named, management commentary during a post-earnings conference call indicated it could be the BlackBerry maker, writes Reuters.
Business Update
"We are delighted with the outstanding performance of our Diversified Manufacturing Services sector overall and we are actively expanding our capacity in order to meet the growing demands of numerous customers and products," said Jabil CEO Timothy Main. "The ramp-up of new products, combined with specific customer challenges and muted end-markets give us plenty to focus on in the fourth fiscal quarter," said Jabil CEO Timothy Main. "We believe success in the fourth quarter will set the stage for a brisk fiscal 2013 and a continuation of record setting years."
Fiscal Q4 2012 Guidance Range
Net revenue: USD 4.1 billion - 4.35 billion
Core operating income: USD 170 million - 200 million
Core earnings per share: USD 0.54 - 0.66 per diluted share
GAAP earnings per share: USD 0.43 - 0.55 per diluted share