Electronics Production | June 05, 2012
Enics: Successful partner event in the EMS World
Enics, one of the largest providers of Electronics Manufacturing Services in the field of Industrial Electronics, held Enics Fair this year on May 24th in Zurich.
Around 200 participants; customers, suppliers, competitors and Enics representatives met at the Hotel Renaissance in Zurich for seminar and networking event. The presentations of Enics' top management, customers, and international experts shed light on various facets of the exhibition theme "Quality of: for Life" - including topics such as "Comfort in Life", "Environmental Impact Reduction" and "Safety & Security." "I am delighted that the Enics Fair concept is so successful, and that so many of our partners have come to network and exchange ideas," says Dirk Zimanky, CEO and president of the Enics Group. This year's big event was the fifth Enics Fair; the first-ever event in 2006 was carried out in Baden, Switzerland.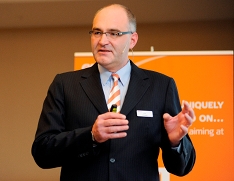 © Enics
"Our fair gave me an excellent opportunity to explain to our partners the refinement of the Enics strategy. Specifically, this means that the Enics Group, with eight locations worldwide, continues its clear focus on industrial electronics, and, together with our customers, drives onward our qualification as system supplier in selected areas," explains the CEO of Enics. The main speeches at the Enics Fair in 2012 revolved around global megatrends. Dale Ford, Head of Electronics & Semiconductor Research at IHS iSuppli showed where the electronics industry is heading. Keynote speaker Dorman Followwill, Partner and Director of Europe, Israel and Africa (EIA) at Frost & Sullivan, gave insight into emerging trends such as mega-cities, mega-"corridors" and mega-regions. The talk by one of Enics' customers for many years dealt with the pioneering of "Smart Grids". Within the setting of the "Quality of: for Life" exhibition, Enics also awarded the best suppliers of 2011: The Supplier of the Year award 2011 went to Murata. In addition, Linear Technology was honored as the Best Component Manufacturer and TTI Inc. as the Best Distributor. On 25 – 26 September 2012 Enics will gather together Industrial Electronic professionals to celebrate the opening of its' new site in Changzu, China and network in Enics Asian Partner Day.
Related news