PCB | March 28, 2012
Optimism in German PCB market in December 2011
The year 2011 closed with a sales growth of almost 4% (YoY) for German PCB manufacturer, reports the ZVEI PCB and Electronic Systems.
The December sales were weak - compared to November 2011, results were almost 25% lower. Due to the economic uncertainties, a number of customers issued a prolonged shutdown period at the end of 2011. This and the usual year-end inventory reductions have led to this - above average - fall.
Order intake decreased 7% sequentially. For the year, order intake decreased 17% compared to the year 2010. Orders received per working day corresponded to the long-term average.
For the last two months of the year - as already reported - a short-term increase in orders was noticeable. This was caused by postponed orders due to the flooding in Thailand in autumn 2010. The development is expected to continue for some weeks, but then decrease again.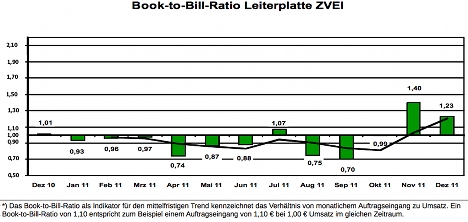 © ZVEI
/ Zoom Function
Even smaller companies and prototype manufacturers recorded a strong order intake, which may indicate an improvement of the general situation during the 1Q/2012.
Due to the additional orders placed, the December book-to-bill ratio stood at 1.23.
The number of employees declined in December by almost 2% (YoY) as temporary contracts expired. Overall, however, 2011 ended with higher employee numbers - increasing by almost 5%.
Load more news