PCB | February 28, 2012
Rigid PCB shipments down 3.1% in January 2012
Rigid PCB shipments were down 3.1 percent in January 2012 from January 2011, but bookings increased 10.9 percent year over year.
The book-to-bill ratio for the North American rigid PCB industry in January 2012 strengthened to 1.01.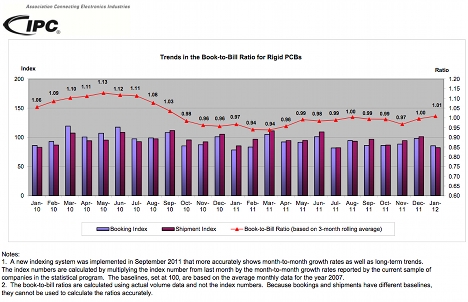 Flexible circuit shipments in January 2012 were down 7.9 percent and bookings were down 29.4 percent compared to January 2011. The North American flexible circuit book-to-bill ratio rose to 1.05.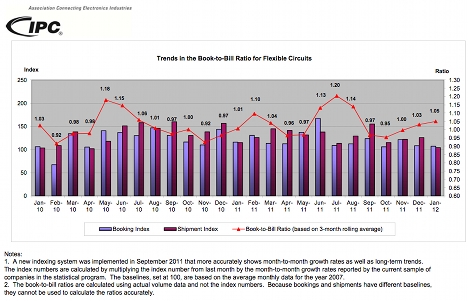 For rigid PCBs and flexible circuits combined, industry shipments in January 2012 decreased 3.5 percent from January 2011, while orders booked increased 6.2 percent from January 2011. The combined (rigid and flex) industry book-to-bill ratio in January 2012 continued to inch up and now stands at 1.01.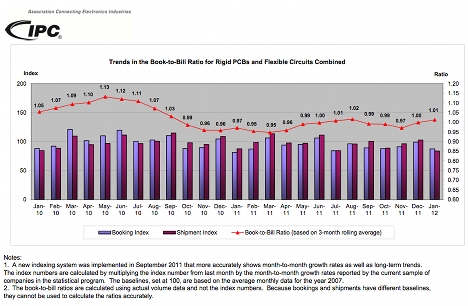 "Both rigid PCB and flexible circuit sales followed normal seasonal patterns in January, with sales down from December," said Sharon Starr, IPC market research director. "The good news," she added, "is that rigid PCB orders are up and the book-to-bill ratios for both rigid and flex improved again this month. They are now just above parity, which suggests a return to modest growth in the new few months."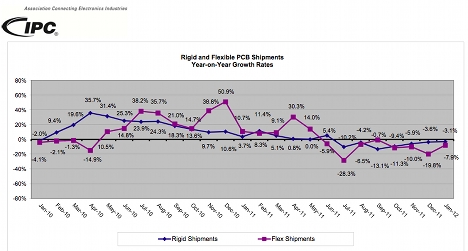 ----- All graphs
© IPC
.