Heat management – is shape of material important?
Everyone knows how the cellphone looks like. From outside looking like a tiny box with shiny plastics and glass but deep inside it is much more complex. Housing, electronics, cooling system and screen are connected using various systems.
One of methods uses adhesives to secure permanent bonding which is applied, depending on application, either by hand or automatically. Many people recognize tape application as unwinding the roll, cutting expected length by scissors and pulling some force to secure proper bonding. In mass production it looks much different as elastic materials – like adhesive in case of bonding – are delivered in specially designed shape which matches the surface of components. Such material preparation is called conversion and there are companies which specialize mainly in this activity. In terms of thermal conductive materials, conversion has a lot of benefits. Liquid systems are easy to handle when using automatic equipment. In case of application by hand it is also easy to follow the shape of electronic component, or simply to dispense a dot on the cooling plate. However, it should be considered that not every application allows usage of liquid systems, and this is where solid materials like tapes or gap pads are taking the responsibility for proper thermal connection between surfaces. The decision which material to use should be taken during design phase of the device. This is just one of the steps designer needs to take. When it is said that solid material fits best, it is time to think how to assembly this in most efficient and effective way. Thermal interface materials will always have its unique dimensions and shape and it is worth to know how to design it properly to avoid additional changes on further stages of the project. Few tips worth remembering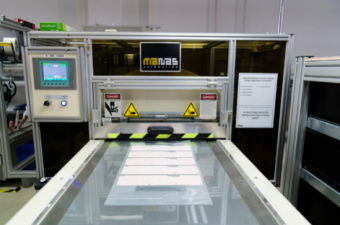 Solid thermal interface materials are usually produced in two formats: logrolls and sheets. Both have its advantages and disadvantages when it comes to cutting process, but all have common principals which is good to remember during design. First are tolerances, as in precise electronics general rule says that manufacturers are obliged to work within tiny deviations. Thermal interface materials are acting a bit different. When thermal conductive adhesive tape, made of carrier, fillers and adhesive is stable, gap pads are more like a foam or sponge. Typical cutting equipment, like flat-bed or rotary, uses pressure force to cut the shape which compress the material and decompress after the operation, which has influence on the final shape. Considering material provided on roll, there is additional force which pulls the material from the feeding source which generates additional elongation. In such conditions, safe tolerances which can be kept are on a level of +/-0.5mm, but the thicker the material is, the worse tolerance will be achieved. Second factor, which usually causes problems during quotation or approval process are edges in the designed thermal interface material die-cut.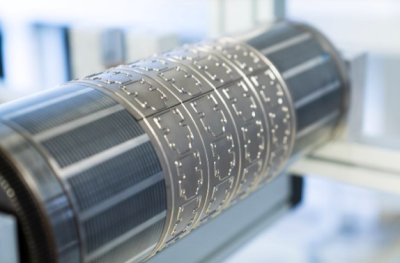 For example, knife of plotter works in all directions and can follow most of complex shapes but recognized as the slowest process it is usually considered in prototyping or low volume projects. Flat-bed or rotary cutting is typed for most of projects. The tool of the machine has a structure of plate or cylinder where sharp knives are installed. With currently used technology, it is impossible to create a composition which allows to cut 90° edge. It is always important to round the edges during design. Practically it doesn`t affect the behavior of thermal interface material. Third factor results also from tool limitation. Components, like semiconductors, are often connected with cooling plate and housing by screws or clamps. This means that thermal interface materials need to have a place to let the screws through, so the converter needs to cut out the holes. This is done by additional knives which are installed in the housing of the tool. In some cases, the holes are very close to the edges or bigger holes for LED in example, but there is always a limit how the minimal distance should be designed. A general rule indicates that the length between the hole and the edge cannot be smaller than nominate thickness of the material. The recommendation is to keep at least 1mm distance. If the distance is too small, the tiny part of the material, which remains between the edge of the technical hole and the edge of the part itself, can simply be torn off. To avoid this situation, if there is no chance to change the position or diameter of the hole, U-shape holes or merging several holes existing close to each other can help. In such case the need to recalculate thermal resistance and dielectric properties may occur, not forgetting about leakage current.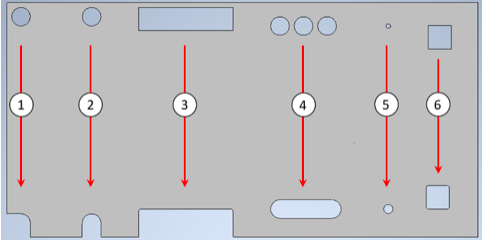 Where else conversion helps? Some projects may request for more sophisticated component composition. Thermal interface materials are cut and delivered in its original, catalogue-based form, but sometimes the application asks for modifications. First common request is an additional adhesive in case of tapes or gap pads.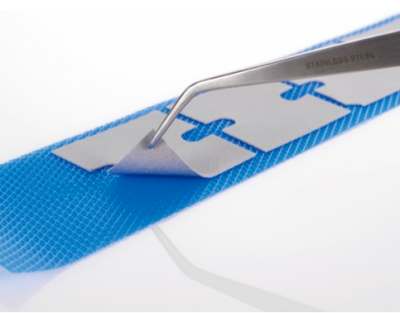 Those materials are usually tacky due to its construction, but when permanent bonding is needed, self-tackiness is not enough. Manufacturers of thermally conductive materials like Kerafol offer the materials with adhesive coating, which is applied during a tape casting production step. Sometimes special type of adhesive is needed which can be only applied mechanically. This process is called lamination and is part of converting process, which takes place during cutting the parts. Other possibilities of layer combination can be also found on the market. Compositions of graphite with additional laminated electrical insulating layer like PET are used more and more often. Making safe choice Electronic components are getting smaller and smaller. This leads to a higher level of generated heat especially in power electronic devices, where heat needs to be sufficiently distributed. Thermal materials are playing an important role in that market and most projects will require tailor made shape. To simplify the work, it is useful to have valuable partner which can provide not only technical support with choosing the right material but can also support during the design phase of the part shape to avoid any possible problems in future. The experience in cutting process, knowledge of quality requirements and OEM standards are playing a very important role. The knowledge of raw materials and experience in processing those are also necessary to provide good quality die cuts. Some manufacturers like Kerafol combine these topics, but also a cooperation with professional converters, like Dacpol, is highly developed on the market. Remembering described important rules will help to avoid unnecessary problems and technical changes in further stages of the project.
Author: Marcin Mierzejewski Area Sales Manager Kerafol Keramische Folien GmbH Co KG email adress: adres email: