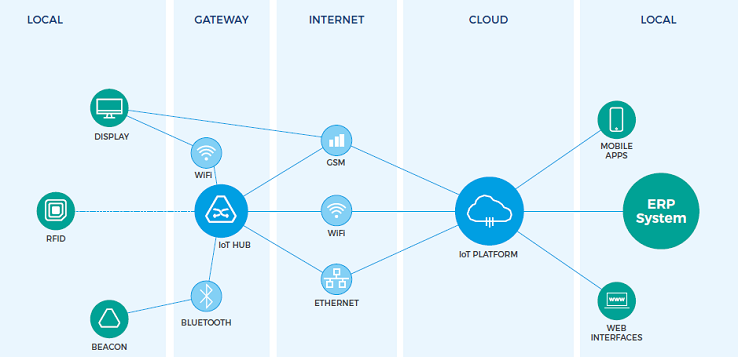 Comarch Solutions for Industry 4.0
Improving efficiency of using business resources as the main goal of Industry 4.0 solutions
Industry 4.0 is a term that has been defined in many ways. What exactly, in Comarch's understanding, does this term mean? 
Essentially, the term Industry 4.0 encompasses various technologies that have a common denominator: their purpose. Industry 4.0 covers systems aimed at improving control over the use of material resources and personnel, and consequently improving business operations. It is possible with the use of technologies allowing the integration of IT systems with physical devices.
The term Industry 4.0 includes very diversified technologies, yet there are no two identical companies in the world so customer needs must vary. How we can implement Industry 4.0 systems in terms of the need to customize?
An example of the potential of Industry 4.0 and how it can be tailored perfectly to specific needs is our implementation for the Swiss company Abnox. The company, employing 40 people, manufactures specialist equipment for dosing lubricants used in several branches of industry. Given the huge diversification of applications, the company produces huge amounts of its products that often differ only by a detail of design. In addition, these are manufactured in very short lots or installed as individual pieces.

Abnox's characteristics make the production process very complicated. The variety of products forces frequent changes in production documentation, which in turn means many opportunities for errors such as the incorrect selection of components, installation issues and other mistakes. Production of this type is also by nature complex and time-consuming. Finding documentation, selecting components and preparing workstations and tools pose a major problem. Another challenge was engraving identification data on products where data errors could arise. All of these problems are especially acute for less-experienced workers.

For Abnox, production transformation in line with Industry 4.0 was based on industrial touchscreens installed at workstations. The screens were incorporated into the system with the existing LAN, with data being distributed and collected using the Comarch IoT Hub concentrator. The data transferred thereby reach the Comarch IoT Platfor, which is the web application deployed in this case to fit the format to a readable form and later save it to the ERP system. The platform itself is a universal, advanced modular system for monitoring and managing IoT devices, intended not only for configuring their parameters but also fitted with user administration and access rights systems. It implements individualized views, maps and calendars, a scalable and configurable dashboard, and many other functions helpful in the daily management of various smart infrastructures. The solution allowed Abnox to replace existing paper documentation with digital versions that can displayed on screens in the form of detailed information about the selection of components and the installation. Screens also provide feedback in real time. A worker records a given action using the touch functions, which in turn allows ongoing monitoring of the production process and facilitates any corrective action that may prove necessary.

Comarch's goal was not only to produce a physical network integrating data flow to and from the monitors. We also created software that makes it possible to transfer and transform data to and from the existing ERP system onto production workstation screens, and to interpret this information in the Comarch IoT Platform cloud. It is worth mentioning that this was a relatively straightforward task, as Abnox's existing ERP system was also created by Comarch.
Can we consider the Abnox implementation successful? Have the goals set by the customer been achieved? 
With this implementation, many production issues at Abnox have disappeared. Communication in production has been greatly improved and facilitated, allowing careful and error-free delegation of duties to individual workstations. The time required for the performance of tasks was shortened production became more fluid, and feedback dataflow from production to ERP was provided. With digitized instructions, training of new workers has become easier. Therefore, I am sure that we can consider the Abnox implementation as a success. There is more information about this in the short video on this project.



An example of a different Comarch implementation making use of Industry 4.0 solutions is the project implemented at RWTH University Aachen in Germany, at the campus where electric cars are being developed, called "e.Go Life". Comarch is involved in the project as creator of the software controlling automobile production, and using its asset tracking solution to track components used in the demo factory.
There is more on this project in the two attached videos:
Is it possible to formulate a general definition of environments in which Industry 4.0 can be used?
Industry 4.0 is an appropriate solution in any environment requiring the management of many assets. For example, servicing many hand-wash dispensers might seem like a straightforward task involving simple equipment, but the operator could face several challenges. How can they monitor the level of fluid and know when replenishment is required? What is the battery charge status? Has a container been damaged? Many questions multiplied by dozens of points poses a huge challenge. 

Installing a radio connection device on each dispenser turned out to be the solution. While the technology used can vary (BLE or WiFi), it can also be individualized and based on the access connectivity in a given area of operation (3G/4G, NB IoT, SigFox, LoRa, or LTE Cat-M). Depending on the chosen radio technology, we may use the above-mentioned Comarch IoT Hub, allowing data transferred to be processed by Comarch IoT Platform and sent to the company management.
That kind of hand-wash liquid dispersion point network is a good example of retrofitting, or adapting existing systems to the Industry 4.0 standard. What kind of challenges are posed by this solution? 
It is a rather easy task to retrofit machines which have any built-in computer and user interface, even if they are not able to connect to a network. The data collected by the computer can be read and forwarded using, for example, our Comarch BLE module, which also facilitates sensor readings. 

Obviously, devices with no built-in computer pose a greater challenge. Light fittings are an example. Smart lighting is one of the markets in which Comarch is especially strong, having developed complete ecosystem (Comarch Smart Lighting Solution) allowing rapid implementation of a flexible and easily scalable intelligent lighting system with the use of existing fittings. An example of a successful implementation is the lighting system of seven streets in Zielona Gora, Poland, a project implemented in cooperation with LUG SA.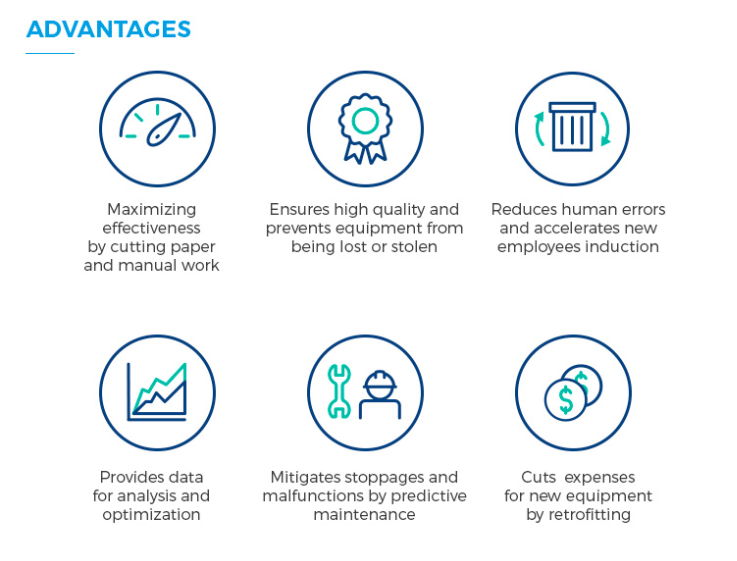 So how are Industry 4.0 systems built? 
It is necessary to have a base of devices ready to use in various systems. Comarch has created, among other things, BLE connectivity modules, slightly more complex beacons and Comarch IoT Hubs. Obviously, it is necessary to integrate our devices with a wide range of commercial sensors, which is done by our extended R&D team.
Comarch IoT Hub

connects integrating devices with Comarch IoT Platform. The device provides secure and stable short-distance communication by collecting data and sending signals to distributed devices.



Comarch BLE Module

makes it possible to transform almost any object in the device connected to the network. It enables data to be sent to the aggregate Comarch IoT Hub.



Comarch Beacon

is a small device that makes use of BLE connectivity and sends a signal read by smartphones. With the use of Comarch IoT Platform, the mobile application can send a personalized message based on the detailed location. Comarch has developed standard and industrial versions of the beacon.
So, that is what the hardware looks like. In the next phase, the team develops algorithms to interpret data using such solutions as Comarch IoT Platform. The next stage is to create an interface presenting processed data to the end user.

An excellent example of such an extended system is retrofitting manufacturing machines to create a predictive maintenance system. The first stage is to read work parameters using our hardware cooperating with sensors, and forward the data using Comarch IoT Hub.

Then, with the active cooperation of the customer, final operation parameters of machines and corresponding alerts are defined. This allows the creation of effective predictive and preventive maintenance systems. These systems are created to avoid sudden failures, related downtime and costs. Replacement of machine parts is necessary, as is periodic equipment inspection, and the manufacturer determines the recommended date and time of such actions for each whole device and individual part. With the detailed data input to the Comarch FSM system, visits can be planned automatically and companies may avoid costly repairs. Assigning maintenance tasks in good time and preventing equipment deterioration also means that device service life can be extended, thus increasing general capacity and ensuring continuous operation.

IoT solutions in connection with the Comarch FSM system allow even more proactive issue resolution. With IoT sensors on devices, it is possible to monitor temperature, weather, pollution and moisture data, and to forecast and eliminate risks related to incorrect operation of equipment. Data processed in real time allow alerts about any issues to be sent directly to the mobile terminals of technicians, facilitating an immediate response.
---
More information on Comarch solutions within Industry 4.0, contact:
Jarosław Widórek
+48 665 550 108
www.comarch.com
Load more news