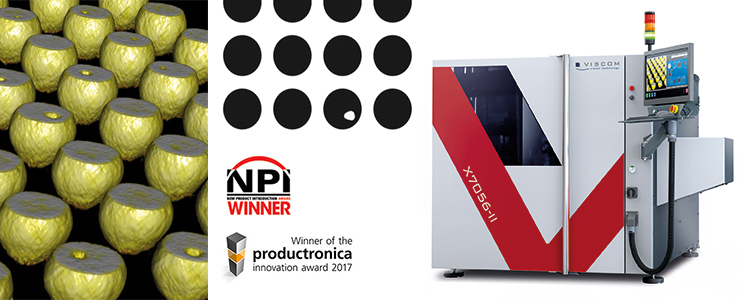 Viscom presents X7056-II 3D AXI system
In the case of automatic optical inspection (AOI) of electronic assemblies, the use of 3D technologies is already the standard for high-end systems like Viscom's S3088 ultra gold or S3088 ultra chrome. Now, more and more electronics manufacturers are using in-line X-ray systems (AXI) to inspect concealed solder joints and acknowledge the advantages of 3D here as well. With the X7056-II, Viscom offers a 3D AXI system that is distinguished by fast handling and first-class 3D image quality.
Viscom's X7056-II 3D AXI system is ideal for use in production lines that require high throughput despite extensive inspection of hidden solder joints. Through use of the board handling solution, xFastFlow, it is possible to achieve handling times (component infeed and outfeed) of even less than four seconds. Up to three PCBs can be processed simultaneously.
High-quality volume calculation
For ultimate coverage, the automatic 2D, 2.5D and 3D inspection can be combined to run in succession. The superb three-dimensional possibilities (planar CT) offered by the X7056-II make all significant features sharply visible in clear slice images to enable precise evaluations – even from double-sided PCBs with a very complex overlap of components on both sides. Furthermore, at the verification station, partial or complete volumes of an inspected object can be displayed and then tilted, rotated and zoomed in on with a mouse or on a touch screen.
Easy and intuitive to use
The system comes along with the Viscom software vVision to offer the same ease of operation the company has already realized for its AOI as well as SPI and CCI systems; that is, also for solder paste and conformal coating inspection on electronic assemblies. vVision stands primarily for intuitive operation as well as quick generation of inspection programs.
Upgrade to a combined solution
The X7056-II also is available as a 3D AXI / 3D AOI combination. This reduces investment and both inspection tasks are advantageously integrated within just one system. The X-ray and optical inspection run in parallel and are therefore particularly time-optimized. PCBs shuttle quickly and nearly simultaneously between the two inspection sections.
For more information, please click here!
Load more news