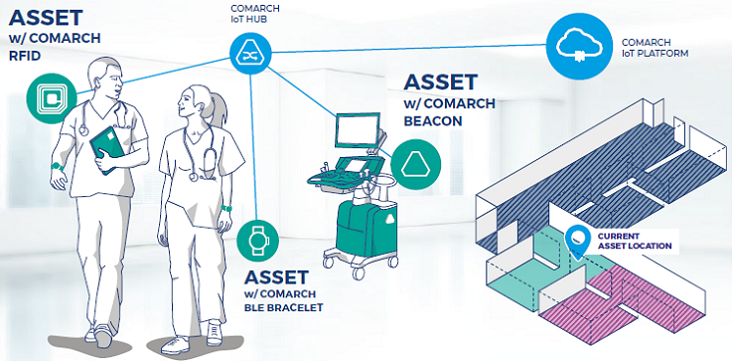 Asset Tracking Systems: Leveraging Effectiveness in Innovative Factory
Improving employee time management and ever more effective asset utilization are common challenges for all managers. Asset tracking systems are innovative solutions supporting factories, hospitals, administration units and all other organizations, where numerous assets and significant headcount represents a challenge for everyday operations.



Asset tracking is one of the fastest growing niches within the Industry 4.0 market. Markets&Markets analysts assess that, by 2022, this market segment will be growing at an average annual rate of 15.17%. Market Research Future recently presented data predicting that CAGR would grow by 15% in the same period. Only a little less optimistic (due to its longer range) is a forecast by Transparency Market Research, putting CAGR growth at 12.9% by 2026. The asset tracking market is predicted to be worth USD 30.6 billion eight years from now.
Growth Factors on the Asset Tracking Market
What exactly causes such optimistic consensus among global analysts in regard to this market? Primarily, Asset Tracking systems offer solutions to the demands of many managers. The physical management, maintenance and real-time location of numerous physical assets is a challenge for contemporary organizations. Equally important is the issue of staff resource management. Personnel spend significant time locating assets, which brings additional costs and inefficiencies.
A properly tailored asset tracking system enables staff and physical assets to be located quickly, delivers real-time data for analysis and process optimization, and allows observation that facilitates instant corrective action and prevents theft and loss. More advantages are shown on the graphic below, delivered by Comarch Technologies.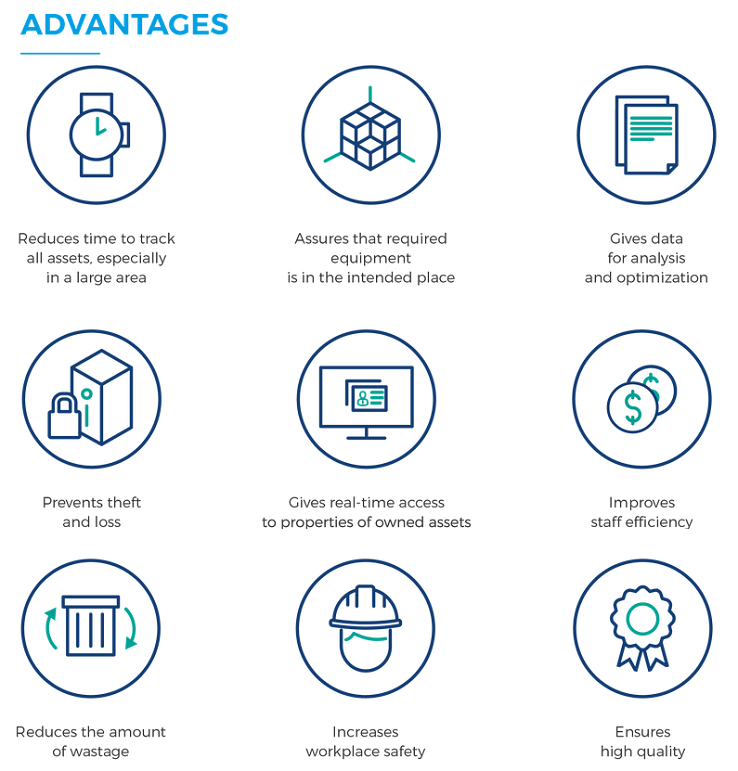 Another significant advantage of Asset Tracking systems is that they enable the appropriate delivery of data for maintenance planning procedures and preventing failures, in a process known as predictive maintenance. Thanks to sensors, an asset tracking system can send information about a device's defective parameters to maintenance and production planning teams. Members of those teams are then able to react early, plan maintenance and prevent failure. As a result, more accurate production planning and fewer, shorter production stops become possible. What is more, experience clearly shows that
a planned stop is usually far shorter that an unexpected one, additionally decreasing downtime.
Applications of Asset Tracking Systems
Last year, Frost & Sullivan presented an asset tracking system adoption diagram by industry, extrapolating to 2022. Healthcare, automotive, industrial automation, and transport and logistics were named among industries in which asset tracking systems are most commonly implemented. Solutions prepared by Comarch Technologies fit this industry roadmap.
Healthcare
Comarch Asset Tracking enables real-time staff and patient location. The solution gives continuous data about a patient's current condition, and sends an alert if they faint or fall. Relatives visiting patients can use their devices to navigate to the bedside instead of having to ask personnel for directions. The tracking system reorganizes asset management and provides data to indicate deficits in asset demand, drug expiration dates and the location of expensive resources or medication. Applying asset tracking to the surgical instrument system ensures the completeness of any set of instruments and valid sterilization dates.
Warehousing / Logistics
Comarch Asset Tracking has a wide range of applications in warehouses and logistics networks. As soon as a vehicle crosses the warehouse entrance, the transported load is identified and placed on the right platform. The same recognition procedure applies to human resources and stillage. Forklift trucks driving around the facility are marked and directed, to ensure that each follows designated routes and complies with safety rules. Internal navigation provides data about current inventory and stock location, to shorten the searching process and ensure that assets are placed in the intended sector.
Production
Comarch Asset Tracking increases control over manufacturing processes and reduces workload by automatic and reliable identification of objects during all production phases. A production line requires complex monitoring for the detection of potential errors and to ensure that the entire process is completed in line with quality requirements. Workers are an inseparable part of the production system, and those who are assigned to specific tools are monitored to prevent any loss or undesirable tool exchange between them.
Archives / Libraries
Assets such as documents, papers and books require proper organization and labeling. Comarch Asset Tracking collects data on owned assets and organizes the flow of books and documents. This information allows files to be cataloged, and prevents them from being stolen or lost. Implementation of asset tracking in libraries significantly improves the borrowing/returning process to shorten the waiting time, minimizing the need for human interaction thanks to self-service posts monitored by the tracking system.
Asset Tracking System Implementation
Asset Tracking is an example of an IT system in which software has to cooperate perfectly with hardware. Thus, as in the case of every complex IT system, selecting the appropriate company to carry out integration is crucial. With 25 years on the market, Comarch Group has gained status as a
well-recognized global brand, making the company a stable and trustworthy business partner able to meet all SLA and warranty conditions.
 Firm market footprint and stability are not the only arguments supporting Comarch's offer:

"Each asset tracking system has to be perfectly tailored for the customer's needs. Comarch Technologies is not only a system integration company, but also designs and manufactures all of a system's components at Comarch's advanced, in-house IoT Plant. Due to this, we are able to offer a direct guarantee of top hardware quality, and can tailor the system according to a customer's specifications using wide range of technologies (BLE, RFID, UWB, etc.). Comarch offers demo-kit lending, and its fast implementation for the PoC (proof of concept) stage allows parties to check how a system offered by us works in real conditions at customers' premises"

. says Kamil Bubiński, Business Development Manager at Comarch Technologies. 
Comarch Group has built its own, gradually developed IoT platform, thanks to which customers benefit from constantly added, valuable functionalities. In other words, as the IoT platform evolves, a customer can enjoy a broader choice of functions available for systems they have already bought. Additionally, Comarch offers system hosting in Comarch Data Centers.


"Long experience in the field of building extensive software systems allows us to integrate Comarch Asset Tracking System seamlessly with a customer's existing systems, for example ERP. Thanks to that, effective data transfer can be ensured, eliminating manual data input and thus avoiding the potential for mistakes"

, Kamil Bubiński added.
Technology
Comarch Asset Tracking is a comprehensive solution provided in SaaS (software as a service) or deployment model. It is composed of transmitters (Comarch Beacons, BLE bracelets and RFID tags) and receivers (IoT Hubs) connected to a cloud database (IoT Platform).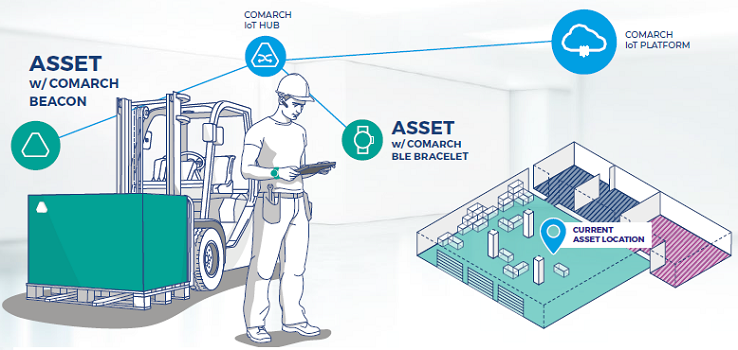 Transmitters are installed on tracked objects. Location information is collected by IoT Hubs installed in crucial places such as rooms, corridors and storage locations. After the IoT Hub transfers the data to the IoT Platform, that information becomes accessible online via web and mobile applications. Additionally, the IoT Platform allows easy control and management by defining simple rules and alerts.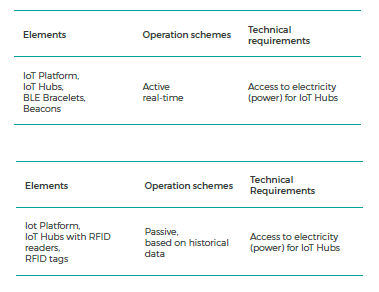 The Technology Roadmap presented by Frost & Sullivan in 2017 shows, that by 2020, passive RFID-based systems will dominate the market. By the end of the current decade, ultra-narrow band technology will be gradually more adopted too. By 2022, first implementations of asset tracking systems based of embedded 3D RFID tags will enter the game.
White Paper - Comarch Asset Tracking
Download the free White Paper on the Comarch Asset Tracking solution in the warehouse space. From the material you will learn what it is Asset tracking and what kind of functionalities and advantages Asset Tracking have. The content of White Paper indicates its use in the logistics industry, especially in warehouses.

Find out more about how Comarch Asset Tracking streamlines the functioning of magazines by downloading the free White Paper.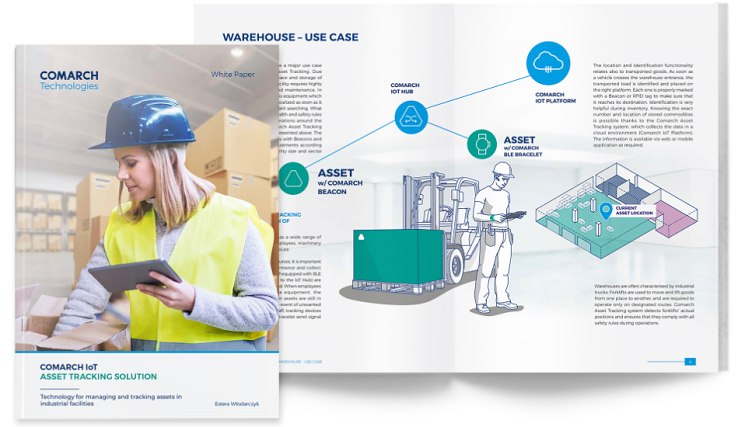 Contact our specialist to gain more information:
Kamil Bubiński 
+48 691 464 240
www.comarch.com
Load more news