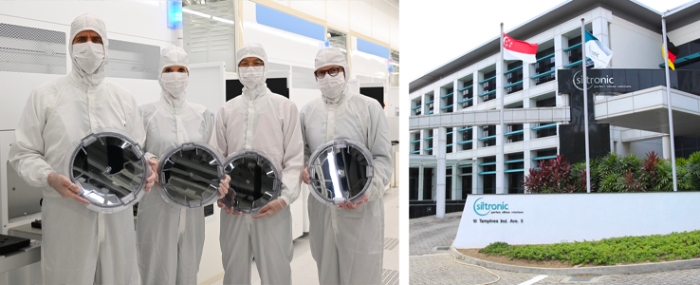 Business |
Siltronic produces its first wafers at new Singapore fab
Siltronic says that it has started the production of the first wafers in its latest 300 mm fab in Singapore. The production marks a significant step in the company's capacity expansion.
"It fills me with immense pride to see the production of the first wafers from the line. This is a decisive milestone in the history of Siltronic. I am delighted to see that the test wafer production has started slightly ahead of schedule," says Dr. Michael Heckmeier, CEO of Siltronic AG, in a press release
Despite many challenges, including the global pandemic and supply chain constraints, the construction of the new fab, which started in 2021, is both on schedule and budget. By the end of 2024, around EUR 2 billion will have been invested into this greenfield project. The company says that this will be followed by further investments on a smaller scale to further ramp the production.
The project covers an area of approximately 20 football/soccer fields. At peak construction times, more than 5,000 workers were on site for both construction activities and installations.
The company states that in the mid-term, the new fab is expected to be highly cost-efficient due to the high degree of automation and deployment of digitalisation, coupled with its proximity to the existing 200- and 300 mm fabs in Singapore, which will lead to economies of scale and synergies.
The new fab will serve both medium and long-term demand growth in the semiconductor market. As originally planned, the production ramp phase will start at the beginning of next year.
"The trust and support of our customers has been a key factor for this investment. In the ramp phase, sales from the new fab have been secured to a high degree by long-term agreements. Customers have also contributed significantly to the initial financing of the fab through prepayments," says Claudia Schmitt, CFO of Siltronic AG, in the press release