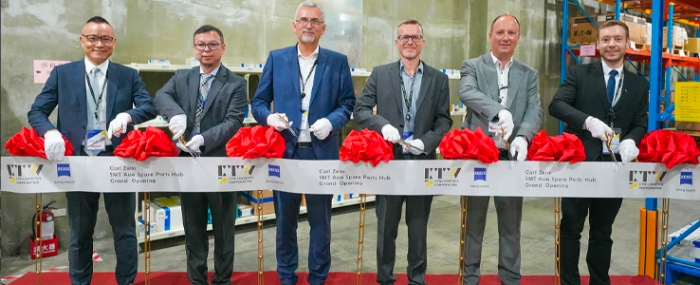 Business |
Zeiss opens new spare parts hub in Taiwan
Back in September, Zeiss officially opened its new Asian spare parts hub in Taoyuan, Taiwan for Zeiss Semiconductor Mask Solutions (SMS).
SMS is a provider of photomask solutions for the semiconductor industry. With the new facility, Zeiss is looking to support the demands of semiconductor manufacturers for fast response time and reliable parts supply.
"With the investment in a new hub we can serve our customers even better and provide parts within a short timeframe using the excellent flight connections within APAC. Customers will benefit significantly from the increased variety and number of parts," says Dr. Axel Zibold, Head of Sales and Service Zeiss SMS in a press release.
The new hub is located in an International Logistics Center (ILC), which allows for quick shipment of parts within Taiwan as well as to other Asian countries, primarily Japan and South Korea. The facility is approximately 575 square meters with temperature and humidity-controlled storage areas and for sensitive components even a clean room storage. Several thousands of parts for Zeiss' photomask systems are hosted here.
"Taiwan has the biggest installed-base of ZEISS photomask equipment worldwide, and as the result Taiwan is chosen to establish Asian spare parts hub," says Johnny Fan, Head of Zeiss SMS Taiwan. "My appreciation goes to our valued customers in Taiwan as well as ZEISS headquarters in Germany, as this is a joint effort that will enable win-win for years to come."
The Taiwanese logistics center is part of Zeiss SMS' new global hub strategy. Dedicated global hubs ensure the supply of parts to secure semiconductor production. The business unit is currently planning to open an additional US logistics center in Indianapolis end of 2023 to improve supply in North America.