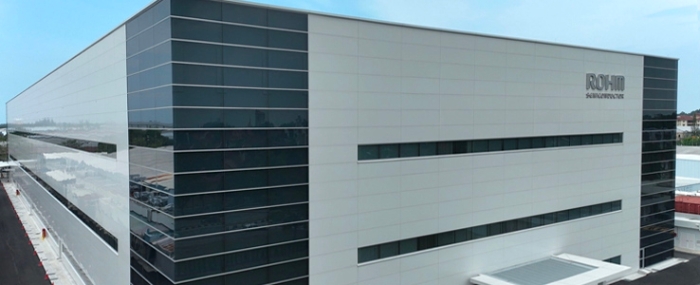 Business |
ROHM opens new production building in Malaysia
ROHM-Wako Electronics (Malaysia) Sdn. Bhd. (RWEM) in Malaysia has officially opened its new production building to strengthen its analog IC production capacity and manufacturing subsidiary.
RWEM produces small-signal devices such as diodes and LEDs, and the new building will be used to produce isolated gate driver ICs, one of the focus products in analog ICs. The new production building offers the company a total floor space of 29,580 square metres.
Isolated gate driver ICs are ICs that optimally drive power semiconductors such as IGBTs and SiCs, and since they play an important role in energy saving and miniaturisation of electric vehicles and industrial equipment, demand for these products is expected to grow.
RWEM will start production of ICs for the first time in order to strengthen its production capacity and promote multi-location of analog IC production factories from the viewpoint of BCM (Business Continuity Management).
RWEM says that it intends to bring in production machines and start production in October 2024. And a result, the company's overall production capacity is expected to increase by approximately 1.5 times.
ROHM Group will continue to strengthen its production capacity in accordance with its Medium-Term Management Plan while keeping a close eye on market conditions.