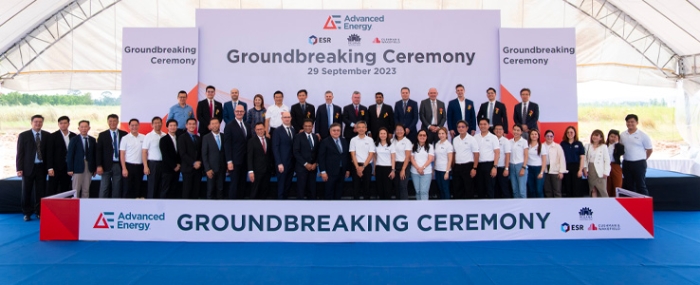 Business |
Advanced Energy breaks ground on flagship factory
The 500,000 square feet flagship facility, at full production levels, is expected to employ roughly 2,500 engineers, technicians and operators and be capable of delivering up to USD 1 billion in annual revenue.
Advanced Energy Industries, a provider of precision power conversion, measurement and control solutions, has broken ground on a new factory near Bangkok, Thailand. The primary focus of the facility will be on products for the semiconductor market. Over time, products for industrial and medical applications are also planned to be produced at the facility.
"Our expansion in Thailand is an important part of our long-term strategy to improve operational efficiency and flexibility. With its robust transportation network, an established regional ecosystem of suppliers and subcontractors and a skilled labor force, Rojana Laem Chabang, Thailand is the ideal location for our new flagship manufacturing facility," said Steve Kelley, Advanced Energy's president and CEO, during the ceremony.
The groundbreaking was attended by members of Advanced Energy's senior management and representatives from multiple AE customers, key suppliers, and local partners including from the Laem Chabang industrial estate where the factory is being built.