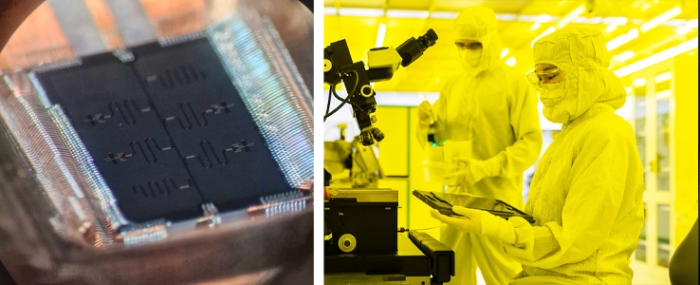 Business |
Swedish company delivers first quantum chips to clients
Chalmers University of Technology in Gothenburg, Sweden, has spent two decades developing quantum devices. However, translating this research into commercial products has been hindered by challenges relating to production and quality control. Until now.
ConScience AB, a company specialising in clean-room production, has dedicated a year to developing methods for producing high-quality and reproducible quantum computing devices for client use.
"Quantum device manufacturing is very complex, and we have been pushing ourselves and spent a severe amount of time in the cleanroom to achieve the stringent requirements in terms of performance variations set out by our client," says Joachim Fritzsche, CEO of ConScience in a press release.
Around the world, significant academic and industrial efforts are being undertaken towards quantum computers, with companies such as Google, IBM, and Microsoft leading the way. Back in 2019, Google demonstrated a programmable quantum computer and claimed quantum supremacy, this was followed by IBM in June 2023 who demonstrated a quantum experiment in the laboratory where a quantum computer was used to solve complex problems.
In Sweden, the Quantum research efforts have been leveraged around the Wallenberg Center for Quantum Technology (WACQT) located at Chalmers University of Technology in Gothenburg. ConScience AB is only one of several startup businesses working in Gothenburg to explore various facets of quantum technology. Others include Low-Noise Factory AB, Scalinq AB, Sweden Quantum AB, and the MIT-Chalmers startup Atlantic Quantum.
"We are excited to see the progress of ConScience in translating academic research concepts into scalable technology" says Jonas Bylander, Assoc. Prof. at Chalmers and the WACQT research center.
ConScience states in the press release that the company has now shipped the first devices, and while this is a milestone, there are still some ways to go before we will see quantum computers solve daily real-world problems
"We still need to improve the production methods, but we are happy to do our small part in the second quantum revolution by working on robust cleanroom fabrication methods" Joachim Fritzsche concludes.
The work on quantum computer components is financed by ConScience and a Smart Electronics grant from the Swedish Research Agency Vinnova.