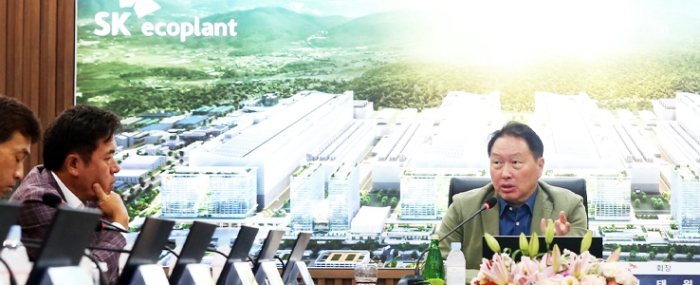 Business |
SK top visits SK hynix chip cluster construction site
"Yongin Cluster is the most thoroughly and strategically prepared project on SK hynix history," SK Group Chairman Chey Tae-won said, calling for efforts to guarantee the success of the cluster.
During a visit to the construction site of Yongin Semiconductor Cluster in Wonsam-myeon of Yongin city, Gyeonggi Province. The chairman said that efficiency needs to be put as a top priority, as he believes that the project requires more than the challenges that the company has made so far, a press release reads.
He also urged the Yongin cluster to be a platform for innovation and co-prosperity by having the infrastructure that materials, components and equipment companies and high-caliber talents can freely use to lay the foundation for – innovation given the difficulties of local companies and universities suffering from infrastructure shortages, including equipment and cleanroom.
In fact, SK hynix is working on building a 'mini fab' within the cluster in a joint project with the government. The mini fab, a 300mm wafer-based research and test facility, will support technologies and products developed by materials, components and equipment companies to be quickly applied to the mass-production process.
Chey also called for the cluster to provide jobs that the next generation.
Once the site preparation is complete, SK hynix will kick off construction of its first fab in March 2025 with completion expected in May 2027.