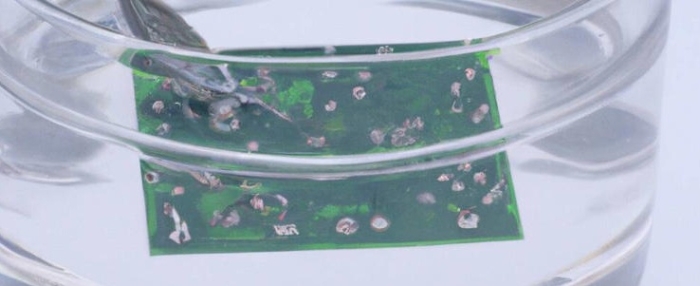 Components |
Infineon is testing circuit boards that dissolve in water
Semiconductor maker Infineon is appraising an environmentally friendly material - Soluboard - that will make its circuit boards biodegradable.
Soluboard, which was developed by a UK start up, is a substrate material based on natural fibres. It is enclosed in a non-toxic polymer that dissolves when immersed in hot water to leave behind only compostable organic material.
Obviously, this makes the material recyclable and lower in carbon footprint than the glass-reinforced epoxy resin laminate which is typically used for printed circuit boards (PCBs).
A report in The Register reveals Infineon is currently testing Soluboard for demo and evaluation purposes. But it says it has shared small quantities of boards with selected customers, and aims to make the products available from Q4 2023.