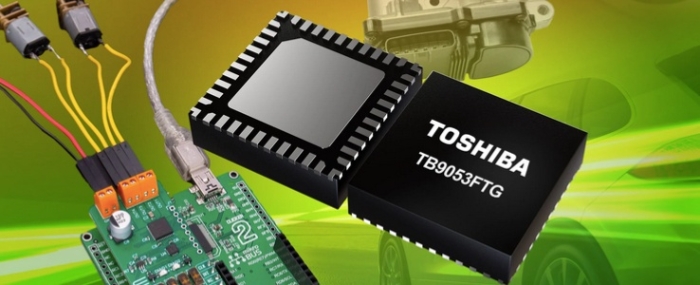 Components |
Toshiba and MikroElektronika form automotive partnership
Toshiba Electronics Europe is working with MikroElektronika on a joint project to accelerate the development of automotive applications.
The Japanese firm will integrate its TB9053 DC-motor driver IC into MikroElektronika's DC Motor 26 Click Board. The two firms say this will simplify design of compact electronic control units (ECUs), and ensure better reliability.
Toshiba's TB9053 provides a dual H-bridge output stage that can drive two motors at up to 5A or a single motor up to 10A. It comprises protection and diagnostic features, as well as additional circuitry to save external components such as charge-pump capacitors.


Once integrated into the MIKROE DC Motor 26 Click Board, it can be designed into automotive subsystems such as throttle valves, engine valves, powered mirrors, grille shutters, and door opening/closing mechanisms. It can also be used for powering seat heaters.

The built-in diagnostic capabilities of the TB9053 also support performance and functional observation. If the IC detects overtemperature, overcurrent, or under-voltage, a series of red LEDs indicate the fault to the user.