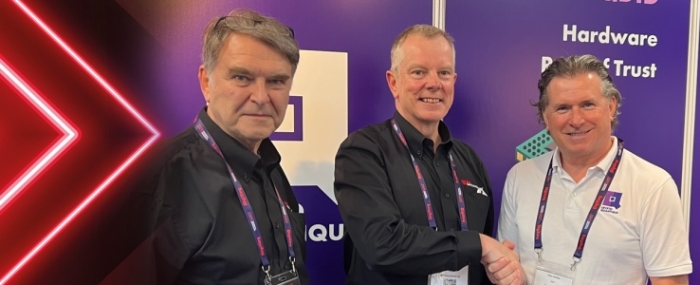 Components |
RED and Crypto Quantique to develop super-secure chip
Two industry firms have come together to sign a Memorandum of Understanding (MOU) for the development of a highly secure microprocessor chip for edge-computing applications.
RED Semiconductor and Crypto Quantique agreed the MOU in order to accelerate the tech that they believe can combat the increasing sophistication of computer hackers.
Today, Edge devices are a major target for hackers. According to Check Point Research in the first two months of 2023, attacks on IoT devices were 41% higher than in 2022, and more than triple the number from two years ago.
The new chips in development, created by RED Semiconductor, will use Crypto Quantique's QDID technology to provide advanced identification and enhanced security. RED Semiconductor's microprocessor uses a vectorised Instruction Set Architecture (ISA) to deliver efficient processing of the algorithms and mathematical functions used in AI, autonomy and cryptography. Crypto Quantique's QDID utilises the quantum effects between transistors to create unique and unclonable identifiers, at the chip level.
The partners say the proposed chip will locate the computation of ciphers and verification of identity in an inaccessible section of the chip from other applications. This will result in an IoT chip whose encrypted data is exceptionally difficult to hack.
Shahram Mossayebi, CEO of Crypto Quantique said, "We are delighted to reach an agreement to collaborate with RED Semiconductor to create chips combining RED's high performance, low power processor architecture and Crypto Quantique's advanced security and identification capabilities. The resulting chips answer a significant need in the IoT market."

James Lewis, CEO of RED Semiconductor, added: "For RED Semiconductor and Crypto Quantique to work together is an obvious step. Edge devices have two major pain points: a performance gap when it comes to applications like AI, and the need to protect information from now relentless hacking attempts. This is a timely agreement, and we are delighted to move forward with it."