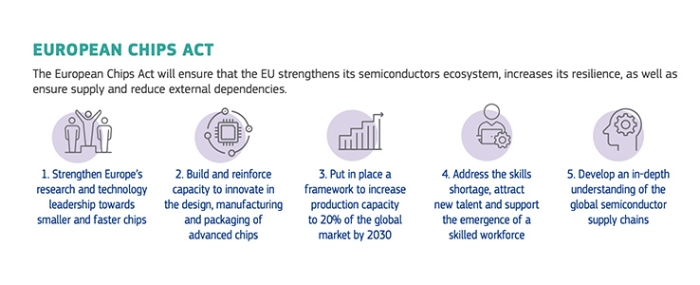 Business |
Addressing the skills shortage in the semiconductor industry
What good is rebuilding an industry if there is no one available to work in it? Well, it's not that bad – just yet. But the fact is that the EU (and Europe) is screaming for engineers.
The EU Chips Act aims to strengthen Europe's semiconductor technology leadership and boost semiconductor manufacturing. The act will mobilise EUR 43 billion of public and private investment to fortify and future-proof Europe's semiconductor industry – this will be reached through five strategic objectives.
Firstly, the act aims to "Strengthen research and technology in Europe, focusing on the development of smaller and faster chips." Secondly, it will "build and reinforce capacity to innovate in the design, manufacturing and packaging of advanced chips." Third, "put in place a framework to increase production capacity to 20% of the global market by 2030." Fourth, "address the skills shortage, attract new talent and support the emergence of a skilled workforce". and lastly, develop an in-depth understanding of global semiconductor supply chains."
Electronics demand is skyrocketing. Global megatrends are pushing development further and further and the inclusion of electronics in basically every part of life has made semiconductors into something that could be liked to a "strategic raw material".
As pointed out by SEMI, Europe has lost a significant part of its market share in semiconductor manufacturing over the years. From 20% of global production capacity in 2000 to a mere 8% in 2021. To keep this share Europe will have to double its manufacturing capacity. However, the Chips Act's goal is to get back to a market share of around 20% – that would mean that Europe has to quadruple the current manufacturing capacity.
This is something that can't be done without addressing the skills shortage. One of the strategic objectives of the Chips Act – as listed above – is to attract new talent and support the emergence of a skilled workforce. The EU intends to do this through a "Pact for Skills program" which will see the creation of a European Microelectronics Industry University Network to attract global talent into Europe as the place to be in Semiconductor research, development, and manufacturing, using a digital education and learning platform. Adding to this, an awareness campaign will be initiated that aims to increase interest in the industry as a career choice. Focus on Diversity and Inclusion is also said to be a key point in the program.
However, criticism has been raised that no funds have been earmarked for addressing the skills shortage in the EU Chips Act. Many European countries have been fighting the skills shortage for many years and are seeing a decrease in graduating engineers – a clear STEM strategy is needed and the industry is asking for transparency in this regard.
---
During Evertiq Expo Berlin on 29 June 2023, the EU Chips Act is taking centre stage. Nikolaus v. Peter, European Commission, Representation in Germany, is joining the event and taking to the stage to provide an overview of the Act and inform about the state of its implementation.
Later during the day, Dennis Dahlgren from Evertiq will present a comparison between the US CHIPS and Science Act and the EU Chips Act. Looking at the reason for their existence, comparing strategies and also paying close attention to the effects that can see already.