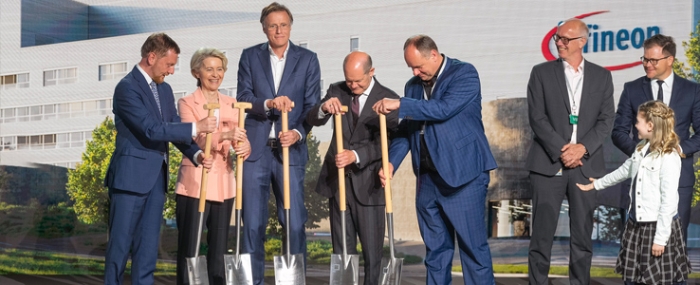 Business |
Infineon: we expect CO2 emissions in 2025 to be 70% down on 2019
The company's COO Rutger Wijburg made the prediction as he broke ground on a new 300-mm Smart Power Fab in Dresden.
Semiconductor companies are working hard to reduce their emissions as the world pursues its net zero target by 2050. In the last few days, Infineon gave its own progress report.
As work started on the company's new Smart Power Fab in Dresden, Rutger Wijburg, Infineon COO, told EE Times Europe that the company expects to be carbon neutral by 2030. He added that it is making good progress, and said emissions in 2025 will be 70% down on emissions in 2019.

"We are speeding up for the green and digitization transition of Europe and beyond. The demand for semiconductors is growing strongly and persistently in view of the high demand for renewable energies, data centers and electromobility. We are increasing our production capacity significantly and shall produce analog, mixed-signal and power semiconductors," added Infineon CEO Jochen Hanebeck.
The global semiconductor manufacturing industry is a major consumer of power. It is also expected to consume 237 terawatt hours (TWh) of electricity in 2030. In 2022, Infineon alone consumed 2,568 gigawatt hours (GWh) of energy at its manufacturing sites.