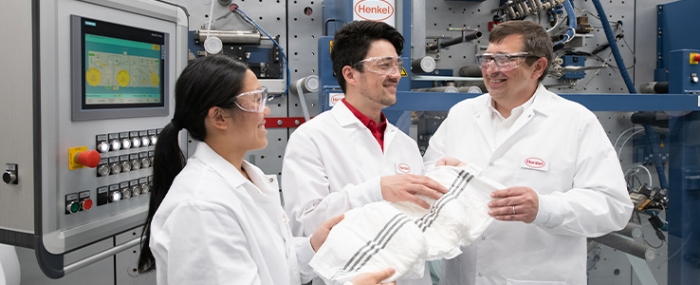 Business |
Henkel opens technology centre in Bridgewater
Henkel has officially opened its Technology Centre in Bridgewater, New Jersey, US. Occupying 70,000 square feet, the facility showcases Henkel's entire technology portfolio of adhesives, sealants, functional coatings and specialty materials.
"Innovation is at the core of what we do," says Michael Todd, Vice President of Innovation and New Business Development, Henkel Adhesive Technologies, in a press release. "The Technology Center Bridgewater is designed to encourage collaboration across the value chain. We have successfully started this concept with the opening of our Inspiration Center Düsseldorf last year and aim to adapt and leverage in core markets for our Adhesive Technologies business such as North America as well."
The Technology Center features an interactive infinity room that includes a display of Henkel Adhesives Technologies' solutions in the region. Some of the featured programs include sustainable packaging for consumer goods, sustainable trends in palletizing, smart health solutions with printed electronics for diapers and personal health monitoring, digital solutions for maintenance, repair and operation of manufacturing equipment, and advances in engineered wood building applications.
According to Michael Harwell, Vice President of Innovation, Consumer Goods Adhesives, the central focus of Adhesive Technologies' innovation activities is developing sustainable solutions for our customers
"With the help of digital technologies, many exhibits, and numerous labs, customers from across the U.S., Canada and Mexico can directly experience our innovative and technological power. We're excited to invite customers and partners alike to the facility to work together with us.
Henkel Adhesives Technologies employs more than 200 workers at the Bridgewater site.