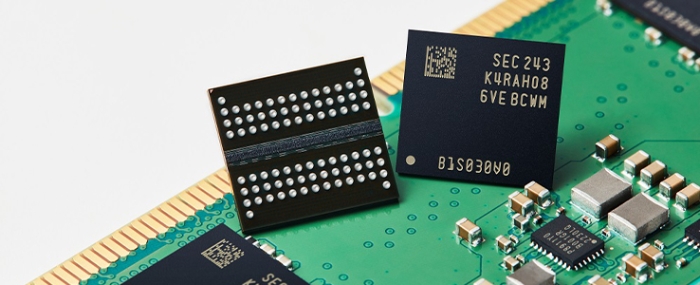 Business |
Samsung's 12nm-Class DDR5 DRAM has started mass production
Samsung Electronics' 16-gigabit (Gb) DDR5 DRAM, which utilises 12nm-class process technology, has started mass production.
Compared to the previous generation, Samsung's new 12nm-class DDR5 DRAM reduces power consumption by up to 23% while enhancing wafer productivity by up to 20%.
"Using differentiated process technology, Samsung's industry-leading 12nm-class DDR5 DRAM delivers outstanding performance and power efficiency," said Jooyoung Lee, Executive Vice President of DRAM Product & Technology at Samsung Electronics, in a press release. "Our latest DRAM reflects our continued commitment to leading the DRAM market, not only with high-performance and high-capacity products that meet computing market demand for large-scale processing but also by commercializing next-generation solutions that support greater productivity."
Samsung's development of 12nm-class process technology was made possible thanks to the use of a new high-κ material that helps increase cell capacitance. High capacitance results in a significant electric potential difference in the data signals, which makes it easier to accurately distinguish them.
Boasting a maximum speed of 7.2 gigabits per second (Gbps) — translating into speeds that can process two 30GB UHD movies in about a second — Samsung's 12nm-class DDR5 DRAM lineup will support a growing list of applications including data centers, artificial intelligence, and next-generation computing.
Samsung says that it completed its 16-gigabit DDR5 DRAM evaluation for compatibility with AMD last December and continues to collaborate with global IT companies to drive innovation in the next-generation DRAM market.