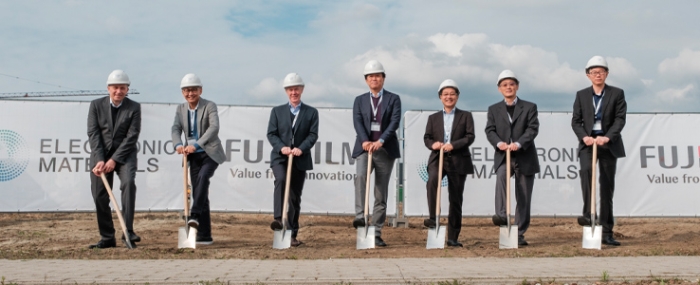 Business |
Fujifilm breaks ground on new €30 million manufacturing site
Fujifilm Corporation has broken ground on a new EUR 30 million expansion at its electronic materials manufacturing site in Belgium to grow semiconductor materials manufacturing capabilities in Europe.
This EUR 30 million expansion will substantially increase the production capacity of Fujifilm Electronic Materials (Europe) N.V., which manufactures components and chemicals required for semiconductor manufacturing, including cleaners, polyimides, developers, and solvents.
The 4000 square metre expansion project will also increase the space for clean room R&D and quality control labs by a third, while also creating a new multi-purpose space for production and warehousing.
The company is looking to complete the expansion by the end of 2024 when it will create 25 new jobs. Fujifilm Electronic Materials (Europe) N.V. currently employs more than 210 staff members. New jobs created include production and lab roles, in addition to skilled technical and academic functions.
With the semiconductor market growing at an annual rate of 10% – according to the company's own internal research – Fujifilm has planned global investments of nearly EUR 1 billion into its Electronic Materials business, including capital investment and R&D enhancements to meet expanding demand.
"This investment is an important milestone to accelerate further the growth of Fujifilm's Electronic Materials business, which is the largest business in Fujifilm's Advanced Materials segment," says Tetsuya Iwasaki, General Manager, Electronic Materials, Fujifilm Corporation, in a press release. "As part of an overall investment package in Electronic Materials we have announced globally over the last several years, I am delighted that here in Europe, we are increasing our abilities to meet the growing short-and long-term needs of semiconductor manufacturers for world-class, innovative technology products."