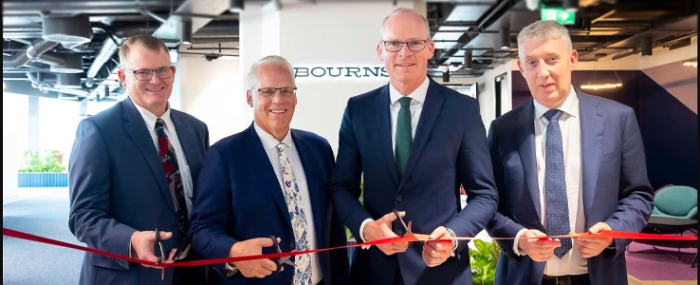 Business |
Bourns creates new jobs with larger office and lab in Cork, Ireland
The manufacturer and supplier of electronic components has opened a larger office along with a new electrification lab in Cork, Ireland in response to growing demand for the company's power electronics and sensing solutions.
To strengthen its current workforce in Cork, Bourns will hire 35 additional people over the next 18 months to cover Application Engineering, Development Engineering, Project Management and Marketing Management positions.
Bourns has expanded its customer base over the last five years by supporting customers who develop advanced energy-efficient power supplies. The global electrification trend has driven a steep rise in the demand for power-saving components in the Renewable Energy and EV sectors. In response to this, the new Cork electrification laboratory is available for the testing and development of next-generation high-performance electronic components.
"The time is right to expand our team in Cork to satisfy increasing demand for our products and technical services support. We have seen that demand increase dramatically particularly driven by the need for more efficient electronic components for electric vehicles, solar panels and more," says John Kelly, Power Division President at Bourns, in a press release. "Our new electrification laboratory is a vital new resource for the testing and development of these essential components, helping manufacturers reduce charging times for EVs and other battery-based applications, thereby expanding their range."