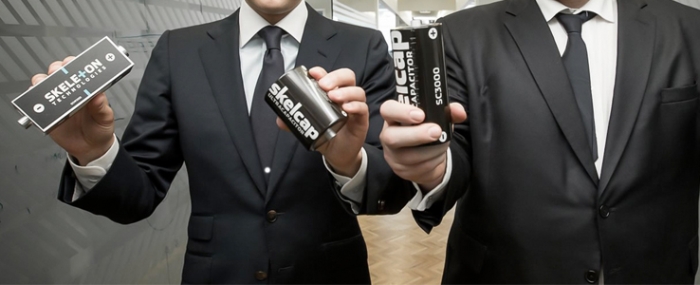 Business |
Skeleton team up with Martinrea Effenco for fast-charging batteries
Skeleton Technologies and automotive supplier Martinrea International have entered into a collaboration agreement aiming to electrify and decarbonise vocational fleets.
Skeleton will supply its novel SuperBattery technology to Martinrea International's Effenco subsidiary, to be used in its Hybrid Electric solution. The Hybrid Electric solution electrifies onboard equipment utilising an ultracapacitor-based technology in refuse collection vehicles to be used in major cities including New York City and Paris.
"We are very pleased to have the opportunity to work more closely with Skeleton Technologies," says Bruce Johnson, Executive Vice President, Martinrea Innovation Development, in a press release "Both our companies possess an exceptional level of technical expertise, allowing us to further develop innovative solutions to electrification challenges for our customer partners. This partnership creates value by reducing greenhouse emissions, engine usage hours, fuel consumption, noise pollution, and related maintenance."
With this cooperation, Martinrea and Skeleton are positioned for electrification growth opportunities. At a time when cities' priority is reducing emissions, electric mobility is critical in the path to net zero. The absence of cost-efficient and safe solutions for fleet electrification has stood in the way of cities' decarbonization efforts. SuperBattery, developed by Skeleton Technologies aims to solve these issues.
"Our SuperBattery has been specifically designed and developed to enable the decarbonization of sectors and industries whose power, safety, and efficiency needs cannot be served by other battery technologies. We are therefore very glad to join forces with Martinrea to dramatically reduce carbon emissions and improve energy efficiency of refuse collection vehicles in New York City and Paris," says Taavi Madiberk, CEO and co-founder of Skeleton Technologies. "Reaching net-zero implies that all sectors will decarbonize, which underlines the need to provide the most-suitable enabling technologies for electrification. We are looking forward to deepening this collaboration with Martinrea and innovate further together for the decarbonization of heavy-duty vehicles."
SuperBattery is am alternative to conventional li-ion batteries and can be charged in 90 seconds, has 50,000 life cycles, and is free from cobalt, copper, and nickel.
This collaboration agreement signed between Skeleton and Martinrea aims to electrify refuse collection vehicle fleets in Europe and North America.