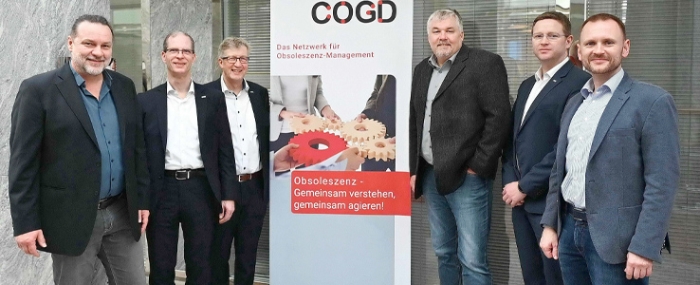 Business |
COGD sees further increase in obsolescence risks
Something as small as a single tiny electronic component that suddenly becomes unavailable from one day to the next can cause enormous economic damage. This is all the more alarming as the list of potential weak points in supply chains has been growing longer and longer, and not just since the start of the Corona pandemic.
Experts from the COGD (Component Obsolescence Group Deutschland) estimate that commodities, materials, software, electronic components and other replacement parts discontinued at short notice or no longer available on the open market for other reasons are already causing additional costs for industrial companies. In Germany for example, the additional cost are estimated to be in the range of several billion euros per year.
This is a development that the non-profit industry organisation has been following with great concern. The COGD has for years – together with its members – been developing strategies and measures to minimise or at least curb the often very expensive effects of obsolescence
Quite a number of manufacturers from sectors such as automotive, aerospace, military, rail, power plant, medical and automation technology – who often need spare parts for their equipment and systems for decades – had actually considered themselves to be in a good position in terms of supply security until the start of the Corona pandemic. But the last three years with their many disruptive factors acting in parallel on the global supply chains have taught quite a few of these companies that this was probably not the case.
However, the new COGD Chairman Axel Wagner does see opportunities in this late realisation.
"Unfortunately, some mistakes and omissions of the past only become apparent in times of crisis. This is not necessarily tragic, as long as you learn from them. Unfortunately, the sum of potential disruptive factors has never been as high as it is today. Particularly in a country like Germany, which is poor in raw materials and is currently completely dependent on foreign suppliers in many areas, it should have long been standard practice to continuously check all suppliers and supply chains for potential risks of failure and to take appropriate active and reactive precautionary measures."
The Chairman continues to state that this – unfortunately – is still not the case. He even goes as far as stating that in just a few years' time, hardly any industrial company will be able to get by without strategic obsolescence management.
Obsolescence is not only caused by the discontinuation of electronic components, but increasingly also by a lack of raw materials and semi-finished products. REACH and other tougher environmental rules and regulations also spell trouble for the industry.
Deputy COGD Chairman Joachim Tosberg brings up the supply chain law and the digital product passport as already being the next challenges. He says that their impact on supply security also needs to be examined intensively. Another cause for concern is the increasing shortage of qualified employees.
"In view of these increasing potential obsolescence risks, it is now necessary to take preventive action quickly and more consistently than ever before, to develop forward-looking concepts that also ensure the availability of the required resources at all company levels in the long term."
Evertiq has reported extensively on the subject of obsolescence and has invited experts in the field to speak during several of its Evertiq Expos.
Given the new environment, what can customers do in order to minimise the risk of obsolescence?
According to Ken Greenwood, Technical Sales Manager at Rochester Electronics, it starts with communication and transparency. The more everyone knows about the life-cycles of products, the more informed decisions can be made and contingency plans can be developed.
The goal should be to avoid the need for re-qualification, recertification and/or redesign – thus one should prepare for future obsolescence.
Rochester will share its expertise and best practice on how to minimise the impact of component discontinuations during several of Evertiq's Expos this year; at Evertiq Expo Malmö, Sweden on 16 May 2023 and Evertiq Expo Berlin, Bermany on 29 June 2023.
Mr Greenwood explains that there are seven steps to approach obsolescence management. The first is that this needs to start at the design phase. Secondly, you need to understand the total cost of obsolescence. Third, you need to plan for obsolescence and resource the management of it. Don't approach this by a "wait-and-see-strategy", but rather proactively monitor component life-cycles. These steps, as well as the following, will be discussed in detail during the Expos. Don't miss out on the opportunity to acquire knowledge and insight on how to develop supply chain resilience through obsolescence management.