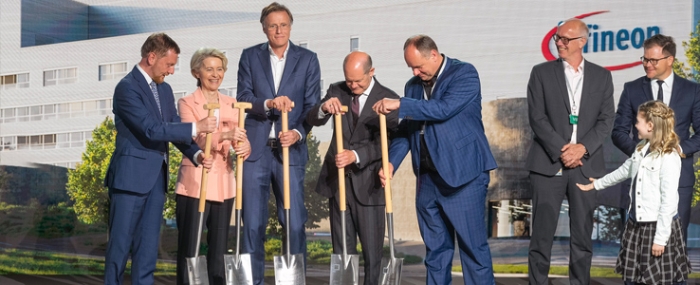 Business |
Infineon breaks ground on its new smart power fab in Dresden
The German semiconductor manufacturer is stepping up the pace in expanding its semiconductor production capacities. Today, the company has officially broken ground on its new "Smart Power Fab" in Dresden, Germany.
With the construction of the new "Smart Power Fab", Infineon is making its largest investment in the history of the company. A total of EUR 5 billion is being invested to boost the manufacturing of power semiconductors as well as analog/mixed-signal-components.
"In times of increasing geopolitical risks, it is great news for Europe that Infineon is investing massively in semiconductor manufacturing in Dresden", said EU Commission President Ursula von der Leyen during the groundbreaking ceremony. "We need more such projects in Europe as demand for microchips will continue to rise rapidly. The EU Commission and member states are mobilizing 43 billion euros over the next few years under the European Chips Act to create a stronger and more resilient Europe in the digital domain."
Chips are the basis of any essential transformation technology
The 300-mm wafer fab is currently scheduled to start production in 2026. Once everything is up and running, the expansion will create 1,000 new jobs. And when operating at full capacity, the company says that the Dresden Fab will let Infineon achieve additional revenues on the order of the investment amount each year.
"With this groundbreaking, Infineon is launching an important contribution to the green and digital transformation of our society," said Infineon CEO Jochen Hanebeck. "Global semiconductor demand will grow strongly and persistently in view of the high demand for renewable energies, data centers and electromobility. Our new plant will serve our customers' demands in the second half of the decade. Together, we are driving decarbonization and digitalization."
Shell construction of the fab is currently set to start in the autumn of 2023. Once we reach the spring of 2025, Infineon is looking to start to move in facility equipment in order to kick off production in the autumn of 2026.
The company states in a press release that the expansion of production capacities at the existing Dresden site will let Infineon complete the project quickly and will also generate considerable effects of scale. The new plant will also be closely linked with the Infineon Villach site as "One Virtual Fab".
As previously reported, the German Federal Ministry for Economic Affairs and Climate Action (BMWK) has approved an early project launch, meaning that construction can already begin before the completion of the inspection of legal subsidy aspects by the European Commission. Subject to the European Commission's state aid decision and the national grant procedure, the project is to be funded under the European Chips Act. Infineon is seeking public funding of around EUR 1 billion.