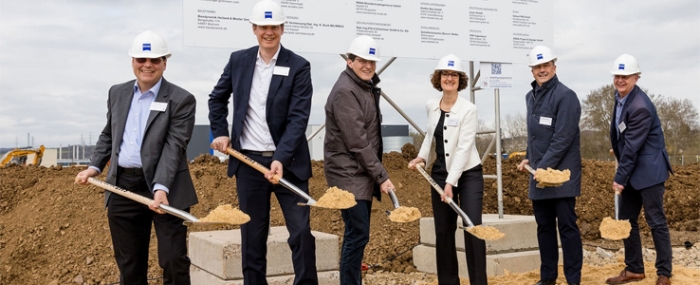 Business |
Zeiss expands with new multifunctional factory in Wetzlar
Zeiss has broken ground on a new expansion. In Wetzlar, Zeiss Semiconductor Manufacturing Technology (SMT) will soon have an additional 12,000 square meters available for the development and manufacturing of lithography optics for global microchip production.
The company states in a press release that the expansion is a direct response to the worldwide growth in demand for microchips in the semiconductor industry. The megatrends associated with digitalisation – Industry 4.0, autonomous driving and 5G – mean more and more microchips are required.
"We are seeing an ever-growing market demand for semiconductor manufacturing equipment. Our lithography optics enable chip manufacturers worldwide to produce microchips with nanometer precision," says Wetzlar's Site Manager Katrin Ariki.
Wetzlar has been one of the company's production sites for DUV lithography optics for over twenty years, but the existing production capacities are now reaching their limits. The new building located in the Dillfeld industrial zone will complement the existing site in downtown Wetzlar, which is also being renovated.
In the future, around 150 staff members will manufacture products such as DUV illumination systems in a production area of more than 12,000 square meters. The building must therefore meet specific requirements.
"Nanometer precision is a must for our products, so we are paying particular attention to ensuring a vibration-free building design for our sensitive measurement technology," Ariki says in the press release. The new factory is also being geared toward maximum flexibility. "We can easily adapt the work areas for optics, coating and assembly to new requirements."
Some 380 people are currently working for Zeiss SMT at the site in Wetzlar, compared to 170 back in 2017. With this new expansion, the company is creating space for an additional 150 staff. When work is completed in 2025, the plan is that Zeiss SMT in Wetzlar will provide over 500 jobs.